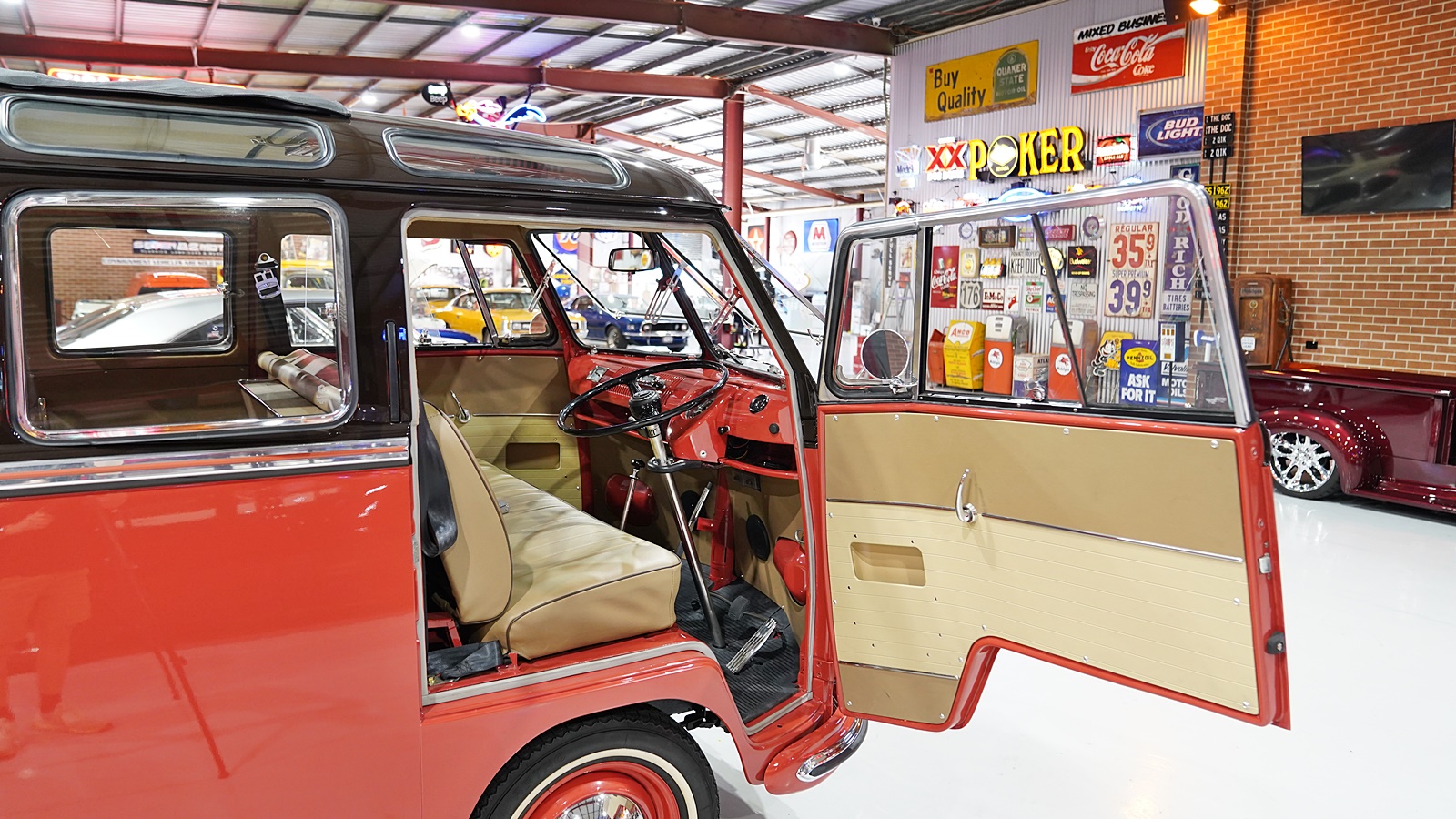 1956 VW Kombi Samba 23 window
HIGHLIGHTS: – Full ground up restoration – Factory 1956 RHD 11 Window Samba – Rebuilt as 23 Window Samba Deluxe – Full repaint in original colour scheme – New 1614cc SP2 4 cyl engine – Manual transmission – Rack and pinion steering – Disc brake front end – Photo documented body restoration – Only 1000 kms since completion
This 1956 VW Kombi Samba has been through a full ground up, professional nut and bolt restoration. The Kombi began its life in Africa as a factory RHD 11 window Samba. It was purchased by the current owner as a restoration project in 2017 and imported to Australia for a full restoration here. When the bus arrived, it was in pretty poor condition, but this was expected and not really a concern given the level or restoration intended. The job was tasked to 'Split Decisions' to perform the revival. The bus was completely stripped back to a bare shell and blasted before the repairs began. There isn't a single panel on the car that wasn't repaired or replaced with the metal being extensively massaged back to as good or better than it was from factory. During the build, the decision was made to add the rear corner windows and roof section to convert the bus to a 23 window Samba Deluxe. When the bodywork was completed the bus was completely professionally repainted inside and out in the factory colours of Charcoal Brown over Ceiling Wax Red. It also received all new glass, catches and seals to all doors and windows. Every window that could be a pop out is one and there is a Goldy wind back roof fitted up top. The underside was painted with stone guard to protect it well into the future. The external looks are completed with new 6" steel wheels with hubcaps and new tyres.
Inside, everything has been fully refinished with all new trim back to correct factory colours sourced from West Coast Classic Restorations in the USA. The bus is licenced to seat 9 people meaning there is more than enough room to take your friends out to dinner. The floors were covered in new carpets and rubber on the cab floor. There is a Classic Auto Sound digital display radio with Bluetooth for hands free phone calls.
In the back end is a brand new SPP 1641cc SP2 flat four engine that is neatly detailed with a new chrome dress up kit. The engine was supplied by DAS Resto Parts from VW Heritage in the United Kingdom. This provides a substantial power upgrade from the original while still keeping that classic Kombi driving experience. The engine is paired to the original manual transmission with new clutch plate. The steering has been upgraded to rack and pinion and the suspension has new hydraulic shocks front and rear. The original brakes remain on the rear but the front has been upgraded to discs for safety.
The result of this 2 ½ year full rebuild is that the bus is essentially brand new having travelled less than 1000 kms since completion. These busses are always super collectible and popular with enthusiasts and this is a fantastic opportunity to purchase on with all of the hard work done that you can enjoy.
 PLEASE CALL LOCKY MCCANN WITH SALES ENQUIRIES ON 0403 935 488
Located at 2 Palings Court, Nerang on the Gold Coast.
PLEASE NOTE: Vehicle information is provided to us by the consignee. We do everything we can to qualify the best cars in the Australian market to represent on consignment however, they are still old cars and we can't capture everything in the photos, we don't drive them any significant distance and can't know everything about them. It is the responsibility of the buyer to have thoroughly inspected the vehicle, and to have satisfied themselves as to the condition and value and to purchase based upon that judgement solely. Vehicles may have been sitting for some time and it is suggested that to protect your investment, you allow to change fuel, oil, fluids, filters and inspect brakes prior to use. All vehicles are sold under standard auction conditions, consignment and auction vehicles are sold as is, without registration unless otherwise stated and there is no cooling off period or warranty expressed, written or implied. Independent inspections are welcome and encouraged.