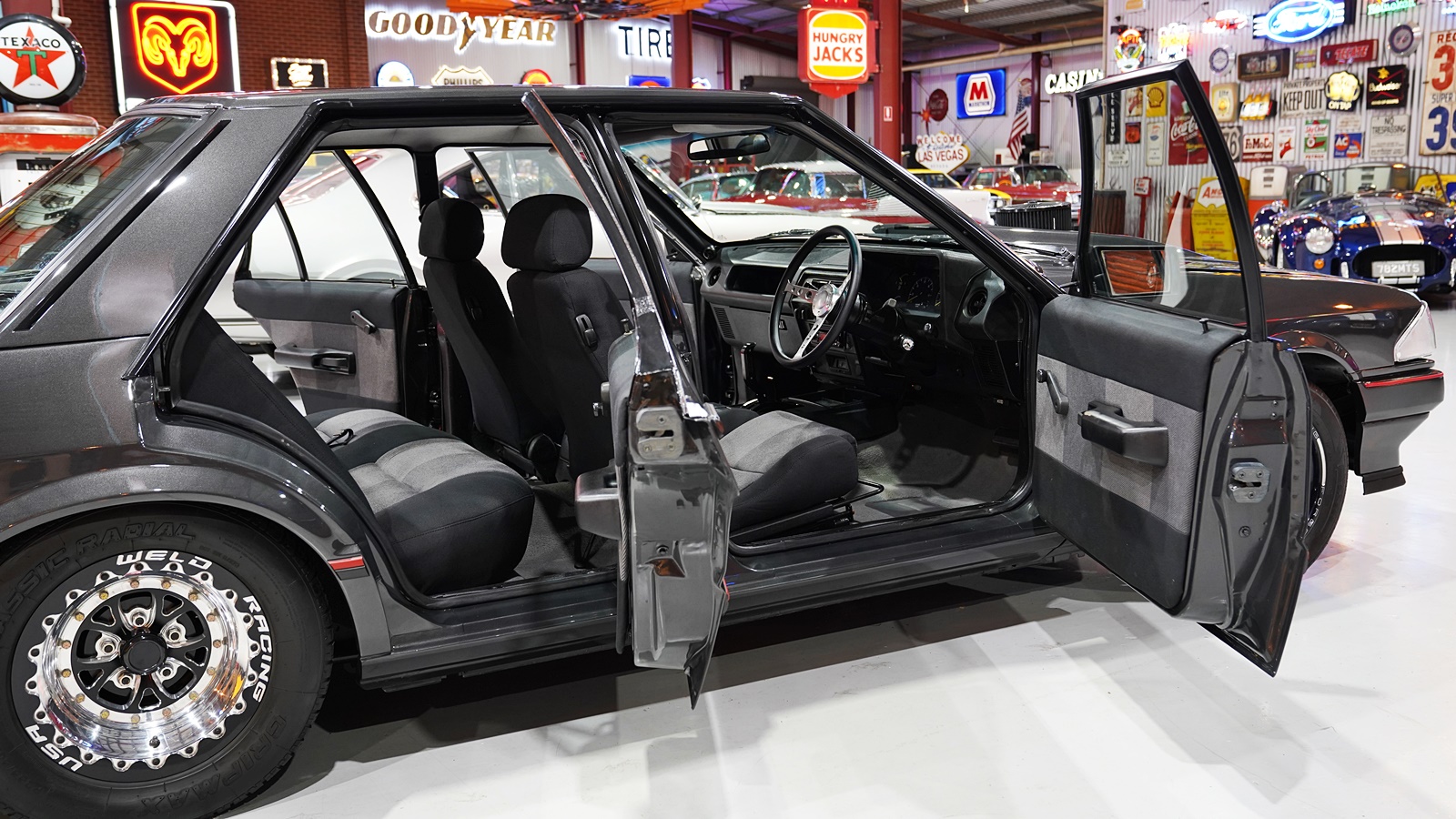 1984 Ford Falcon XE Modified
HIGHLIGHTS: – Fully rebuilt and heavily modified- Pro street styled ESP tribute – Mansweto built 406ci Cleveland V8 engine making 672 hp – New C4 Auto trans with manualised valve body – Repainted in Metallic Grey – Custom Recaro interior – Power steering – Weld V series race wheels
This 1984 Ford Falcon XE ESP tribute has been through an extensive rebuild in a tough pro street style. The current owner of the car is very well respected in the car scene and has built a large number of award winning street machines. When he purchased the falcon, it was a white 6 cylinder S pack and over the years it has been completely transformed. The car was fully repainted in gun metal grey metallic with the addition of Fairmont Ghia badging and the ESP front spoiler. The bonnet received a small reverse cowl and there is an air cleaner poking its head up through the middle hinting at something sinister underneath. In the back there is a custom centre exit dual exhaust and the car sits slammed down low over a set of staggered Weld V Series race wheels .
Inside the car is neat and tidy throughout with the correct style ESP dash and gauge cluster. The front seats are period Recaro sports seats finished in a period two tone grey finish. The rear seats and door trims have all been trimmed to match the front making for a subtle and unique period custom trim. The steering wheel is aftermarket and there is a ratchet style quick shifter neatly fitted to the centre console. There is a hidden Bluetooth stereo system with speakers behind the dash, tweeters on top of the dash, speakers in the rear parcel tray and sub and amp in the boot
Lift the bonnet and you will discover a Mansweto Racing built, 406ci Cleveland V8 engine. The engine features a flat tappet cam for everyday driving with 11.5:1 compression and 225 CHI alloy Heads. There is a CHI high rise intake manifold topped with a 950 hp Holley Carb. Spark is provided by and ICE distributer, coil & ignition system with controller in glovebox for easy tuning. Cooling is provided by a PWR alloy radiator with twin thermos fans. Everything in the engine top to bottom is all new with less than 200kms travelled since completion. The engine package was dyno'd with the cam run in by Mansweto racing where it made 672hp on pump fuel.
The engine is paired to a brand new C4 Auto transmission that runs full manualised valve bodies with ratchet shifter. Power is fed to the rear wheels with a custom fabricated and strengthened 9" diff with 35 spline axles and Tru-trac centre. Fuel is delivered via a new submersed fuel pump in a new custom fuel cell in the boot. The battery has also been relocated and all of the wiring tidied up and hidden where possible. The front suspension received new springs and shocks while the rear end is four linked with coil overs. Steering is assisted with a new electric power steering pump. Pulling everything up is a set of new four-wheel Wilwood disc brakes with all new booster and lines.
This XE Falcon has been tastefully modified into a tough and good looking street car that has been worked on by some of the best in the business. Register and bid now to avoid disappointment.
 PLEASE CALL LOCKY MCCANN WITH SALES ENQUIRIES ON 0403 935 488
Located at 2 Palings Court, Nerang on the Gold Coast.
PLEASE NOTE: Vehicle information is provided to us by the consignee. We do everything we can to qualify the best cars in the Australian market to represent on consignment however, they are still old cars and we can't capture everything in the photos, we don't drive them any significant distance and can't know everything about them. It is the responsibility of the buyer to have thoroughly inspected the vehicle, and to have satisfied themselves as to the condition and value and to purchase based upon that judgement solely. Vehicles may have been sitting for some time and it is suggested that to protect your investment, you allow to change fuel, oil, fluids, filters and inspect brakes prior to use. All vehicles are sold under standard auction conditions, consignment and auction vehicles are sold as is, without registration unless otherwise stated and there is no cooling off period or warranty expressed, written or implied. Independent inspections are welcome and encouraged.