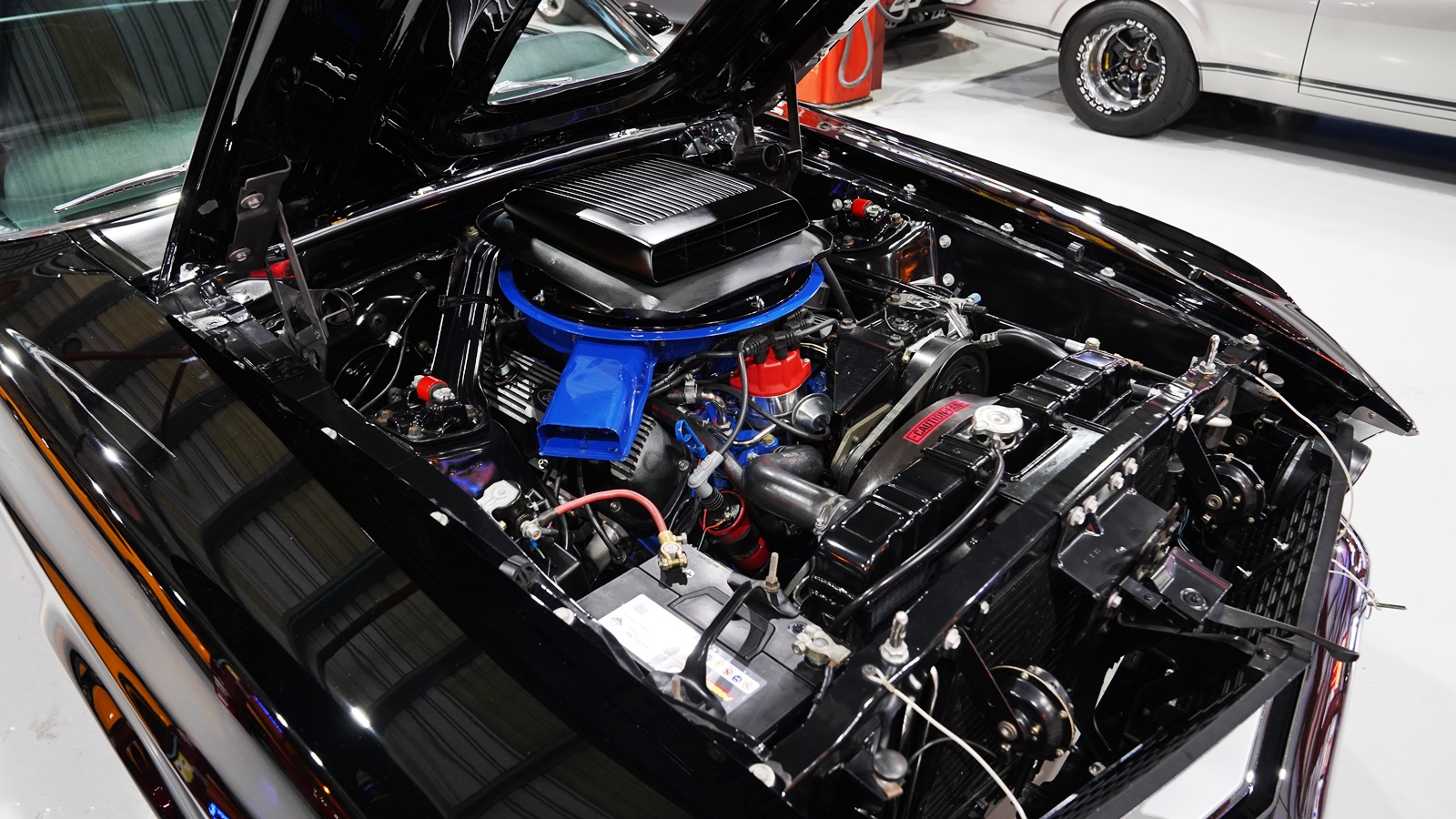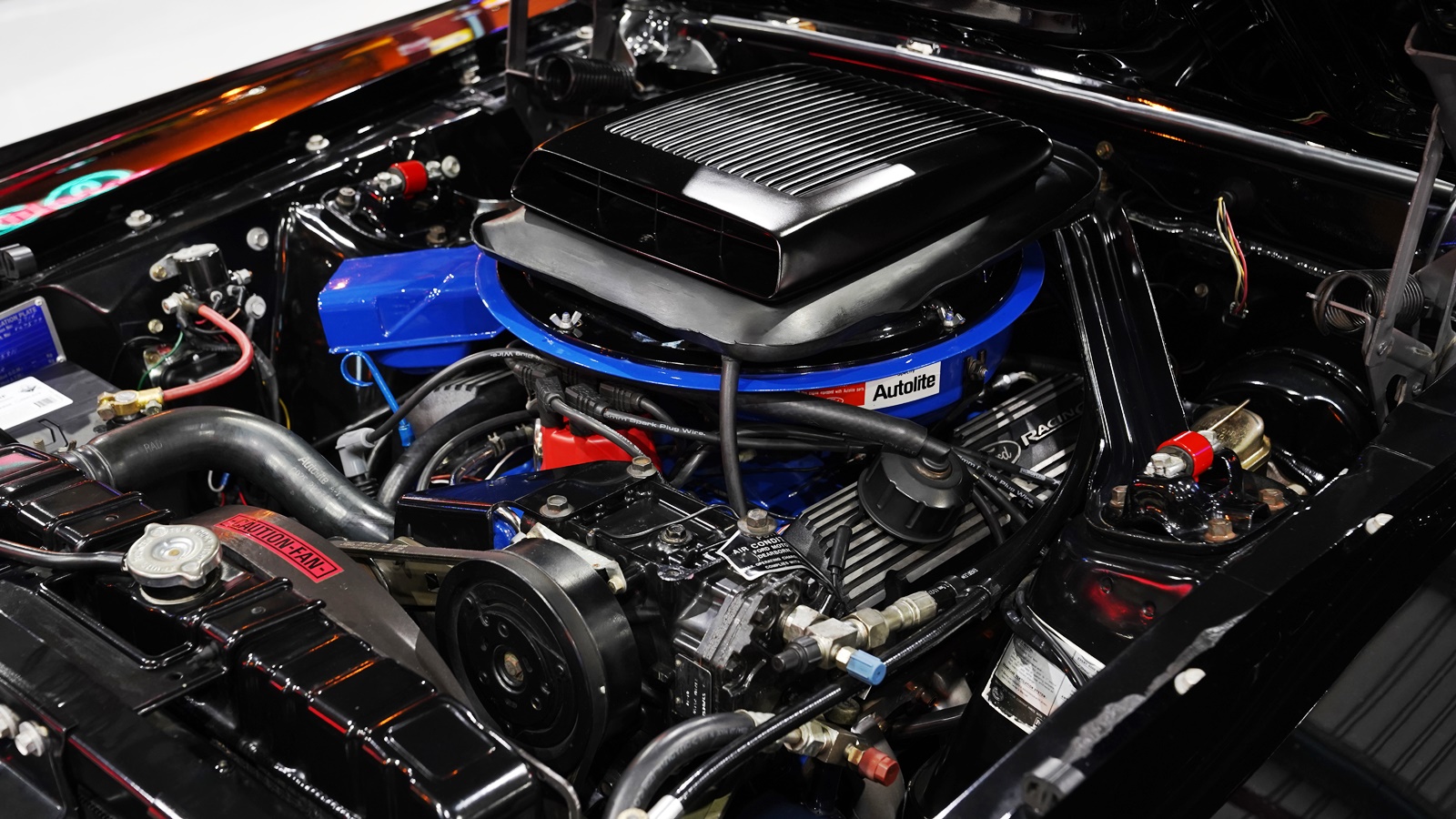 1969 Ford Mustang Mach 1
HIGHLIGHTS: – Genuine Mach 1 – Full ground up restoration finished in 2009 – Finished in desirable Black on Black colour combo – Built 408ci V8 stroker – 4 speed automatic transmission – Air conditioning -Power steering – Large documentation file
This 1969 Ford Mustang Mach 1 has been through a full ground up restoration. The Mustang was originally bolted together at Ford's plant in Metuchen, New Jersey, rolling off the production line on the 27th of February, 1969. The car was a genuine Mach 1, M Code 351ci 4V with FMX automatic transmission. The car underwent its full restoration over a three-year period from 2006 to 2009. During the restoration, the colour of the car was changed from its original colour scheme to its current Raven Black with Black interior combination. The paintwork on the car has been professionally completed to a high standard and finished off with the correct Mach 1 black outs and reflective decals. All of the chrome work and stainless trim on the car was refurbished or replaced. The external look is completed with a set of Magnum style wheels with white lettered tyres.
Inside the car has also been restored back to a factory look in black. The dash houses a set of fully restored factory gauges and the factory wood applique adds a touch of class to the Mustang's interior.  The factory high back bucket seats are comfortable to sit in and are split by the centre console which houses the T-bar auto shifter and a pair of neatly mounted Ford Racing aftermarket gauges. The correct style rim blow steering wheel is mounted on an optional tilt column. Creature comforts inside include air conditioning, power steering and power brakes.
Under the car's matte finished shaker hood lives a 351ci V8 that has been tweaked and stroked out to 408ci by Allied Motors of St. Charles, Missouri. The balanced block utilises Clevite mains, ARP bolts, I beam connection rods, Edelbrock RPM performer intake, Edelbrock Victor Jnr heads, custom push rods, roller rockers and a custom cam to create a dyno proven 475hp. Supplying fuel is a series of fresh stainless lines feeding a Holley carburettor. The engine bay has been restored to a factory style presentation with era correct, clamps and decals. The engine is paired to a new Lentech 4 speed automatic transmission. Power is fed to the rear wheels via a Ford 9" diff with 3.70 gears and Mosler 31 spline axles. The suspension is restored standard with the addition of big block towers up front and staggered shocks out back. Assisting the drive is factory power assisted steering and power brakes with discs up front and drums in the rear.
Included with the car is a large documentation file with receipts along with a Deluxe Marti Auto Works report for the car. This is a rare opportunity to purchase a high quality, fully rebuilt and upgraded, Mach 1 in a timeless colour combination.
☎️ PLEASE CALL LOCKY MCCANN WITH SALES ENQUIRIES ON 0403 935 488
Located at 2 Palings Court, Nerang on the Gold Coast.
PLEASE NOTE: Vehicle information is provided to us by the consignee. We do everything we can to qualify the best cars in the Australian market to represent on consignment however, they are still old cars and we can't capture everything in the photos, we don't drive them any significant distance and can't know everything about them. It is the responsibility of the buyer to have thoroughly inspected the vehicle, and to have satisfied themselves as to the condition and value and to purchase based upon that judgement solely. Vehicles may have been sitting for some time and it is suggested that to protect your investment, you allow to change fuel, oil, fluids, filters and inspect brakes prior to use. All vehicles are sold under standard auction conditions, consignment and auction vehicles are sold as is, without registration unless otherwise stated and there is no cooling off period or warranty expressed, written or implied. Independent inspections are welcome and encouraged.