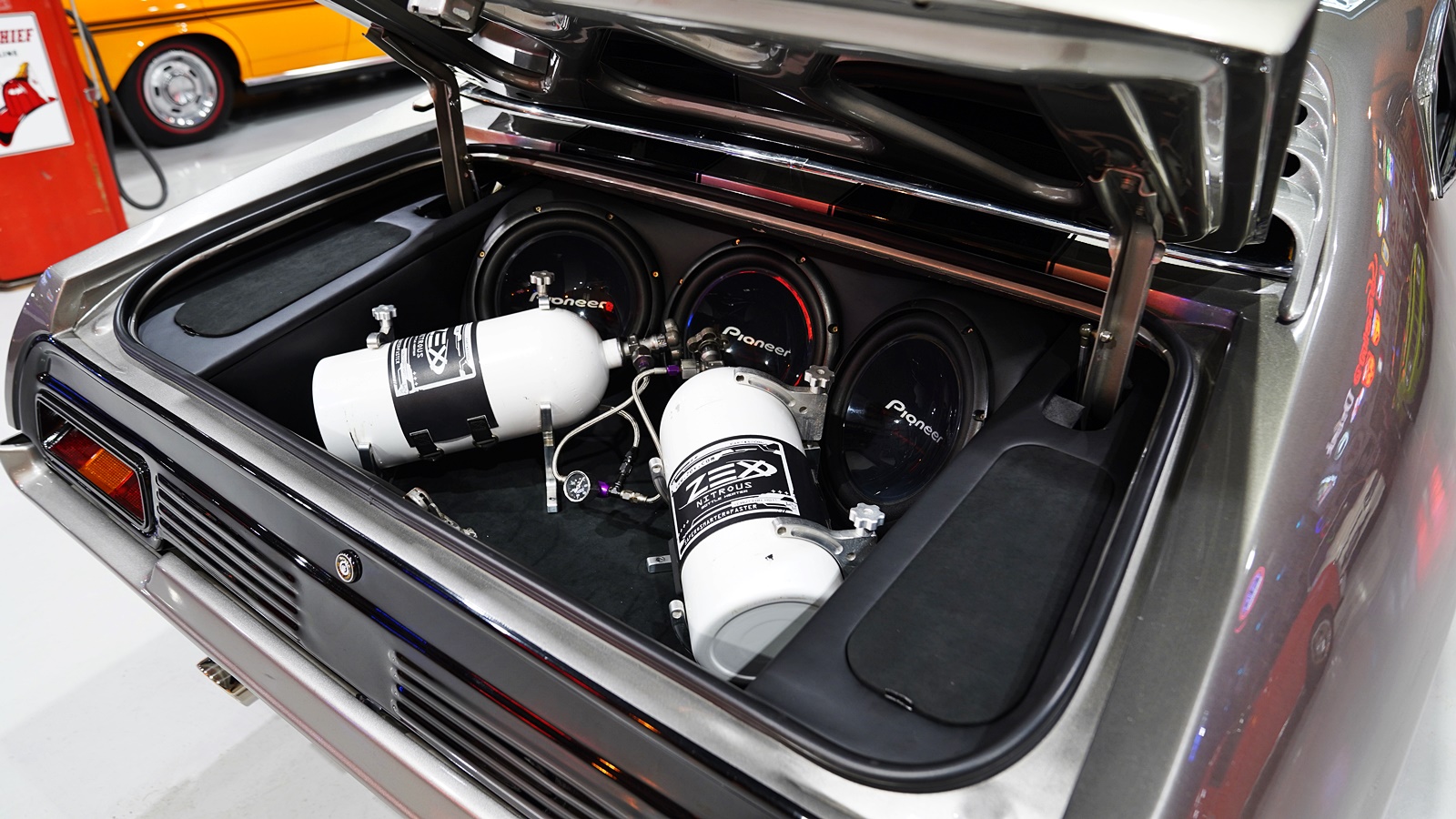 1977 Ford XC Falcon Hardtop
HIGHLIGHTS: – Full ground up custom build – Ford Motorsport SVO 572ci V8 – TBS 14/71 Supercharger – Over 1000hp at the crank – Built automatic transmission – Built 9 inch differential – Accuair Air suspension – Custom paintwork and interior – Custom 2 piece 18/20" wheels
This 1977 Ford Falcon XC Hardtop has been through a full ground up custom build into one of Australia's wildest Street Machines. The coupe, now know as 'EVIL XC' started life as a six cylinder, 4 speed manual Falcon Hardtop finished in Raw Orange. The car was stripped back to a bare shell where a host of body modifications were performed including a smoothed engine bay, custom radiator support, custom wiper cowl cover panel, slightly widened rear guards and smooth and filled under guards and body. A Genuine GT rear wing was added along with Superbird rear louvers, XA GT Front spoiler, LED headlights and billet bonnet hinges. The entire body was painted in PPG 'Vapour' with Black Stripes by Dave and Geoff at Truck Bake in Townsville. Finishing the look externally, the car is slammed over a set of GT Wheels custom two-piece Globe style wheels measuring 18×8 up front and 22×13 in the rear wrapped in Nitto Invo tyres.
Open the door and you will find a full custom interior covered in Ferrari Nappa leather and Alcantara by Trim FX on the Gold Coast. Seating is provided by reshaped, electric VF ute front seats with VE headrests while the rear is a custom BMW 7 Series item split into 2 Sides with a custom full length console. Some notable features include a MOMO steering wheel, custom-made one-piece dash with Dakota Digital VHX series gauges. There is proximity sensing keyless entry with push button start and Billet Automotive buttons on the dash to control most items. Keeping things comfortable in the cabin is a 'Vintage Air' air conditioning system with all hidden wiring and hoses. There is a large stereo system with a Pioneer Pro Class CD player, two sets of Pioneer splits up front, four 6×9" speakers in the rear, five Pioneer amplifiers behind the back seat and three 12" subwoofers in a custom install in the boot. Improving safety over standard are custom four-point harnesses front and rear.
Powering the beast is a Ford Motorsport SVO 572ci V8 engine with 14/71 TBS Supercharger built by Big Al's Toybox in the USA. The engine itself features J&E pistons with sealed rings, an Eagle Forged 4340 stroker crank, Clevite bearings, Liberty performance forged 4340 H beam rods, Manley pushrods, Edelbrock Victor Jnr Cobra Jet heads, Comp Cams 2 Solid 260/266 cam, Meling high volume oil pump, and Canton Race pan sump. The twin 1050 Dominator Carbs are fed a healthy diet of 98 pump fuel from a 115L custom drop tank via a Magna Fuel System pump with 5/8" lines. Spark is provided by a Mallory Unilite distributor and MSD6AL-2 with 2 Step & Autolite Racing Plugs. Cooling is tasked to a custom aluminium radiator with dual Spal fans mounted on a modified support panel and moved 125mm forward. Expelling gasses is a custom exhaust system with electric cut outs with X-pipe that has been completely ceramic coated. Before being fitted to the car, the engine was dyno tested at 1066HP on 98 octane and low boost.
The engine is paired to a Powerglide race prepped automatic transmission built to handle 1500hp with trans brake and Hurst Quarter stick shifter. The torque converter is a billet 3500rpm item. Power is fed to the rear wheels via 4" chrome moly tail shaft into  a custom shortened, fabricated sheet metal 9" with 3.90:1 gears, 35 spline billet axles and Strange Pro aluminium 3rd member.
The car sits down nice and low thanks to Accuair E-Level air suspension all round with pre-set ride heights and self levelling. The rear end has been four-linked and there bushes are all Superpro Poly. The front end features tubular control arms, custom made cross member, strut tower delete along with a BF Falcon steering rack with an Astra electric power steering pump. Stopping power is provided by Wilwood disc brakes with drilled and slotted rotors all round. There are Castlemaine Rod Shop engine and trans mounts and the battery has been removed from the engine bay with dual batteries now located in the boot. There is a Zex nitrous oxide system set up to purge for car shows with two bottles in the boot (not currently connected to the engine) however we are told the engine is set up to take a 300 wet shot if required.
Evil XC graced the pages of Street Machine magazine in December 2021. The car has also won a huge number of awards at various car shows, some of these include Top 10, Top Engine, Top Interior, Top Underbody & Top Paint, Top Undercarriage, Top Driveline, Top Coupe/Tudor, People's Choice and Best of Show. The car has been fitted with a QLD blue modification plate and the modification certificate will be provided to the new owner along with a comprehensive folder of receipt and manuals pertaining to the build of the car.
PLEASE CALL LOCKY MCCANN WITH SALES ENQUIRIES ON 0403 935 488
IMPORTANT: Vehicle information is provided to us by the consignee. We do everything we can to qualify the best cars in the Australian market to represent on consignment for private sellers however, they are still old cars and we can't capture everything in the photos, we don't drive them any significant distance and can't know everything about them. It is the responsibility of the buyer to have thoroughly inspected the vehicle, and to have satisfied themselves as to the condition and value and to purchase based upon that judgement solely. Vehicles may have been sitting for some time and it is suggested that to protect your investment, you allow to change fuel, oil, fluids, filters and inspect brakes prior to use. All vehicles are sold under standard auction conditions, consignment and auction vehicles are sold as is, without registration unless otherwise stated and there is no cooling off period or warranty expressed, written or implied. All sales are final. Independent inspections are welcome and strongly encouraged to help with your decision making.
Located at 2 Palings Court, Nerang on the Gold Coast. Inspections by appointment during auction and public openings/viewing as advertised.