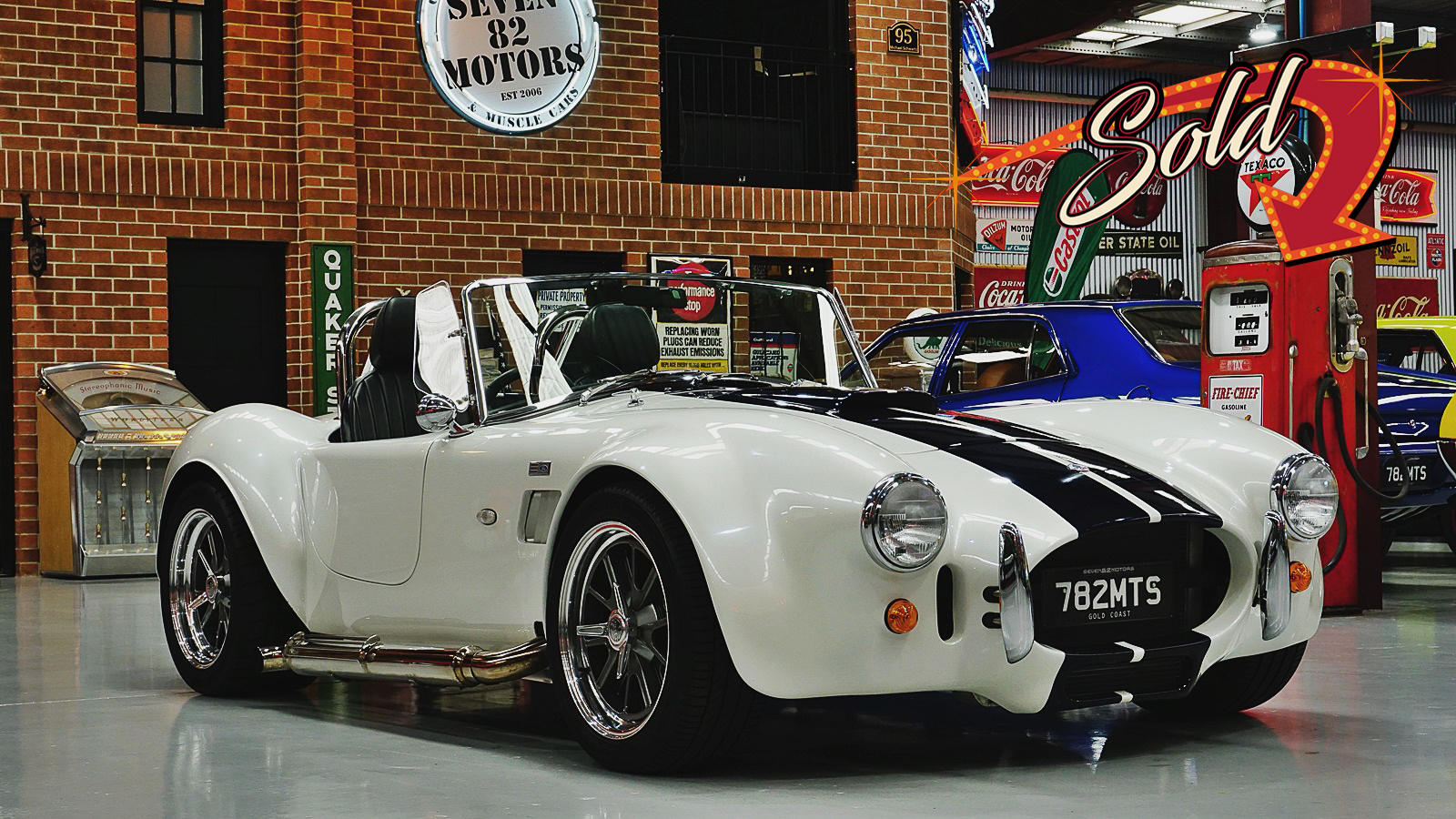 2015 AC COBRA REPLICA
The AC Cobra is one of the most famous and iconic American sports cars of all time. This replica is one of the well know Harrison kits designed and built here locally in QLD by Warwick Harrison. The Harrison kits are known for their true-to-form wide body style panels. The wide body and the chassis are very well engineered items. This example is one of the extended bodies that are 100mm longer through the middle to allow access for taller drivers. Cobra Kits Australia began assembly in 2014, taking over from Harrison after he retired. A few months into the build, Harrison came out of retirement to oversee the finishing of this particular car, which was completed in March 2015.
This Cobra was by no means a budget build. The best available engine and driveline configuration was chosen in the 5.0L Ford Coyote V8. The engine was a brand-new crate engine and the same type that is used in the latest generation Mustangs. The transmission is a Tremec 6060 6-speed manual gearbox (the same used in the GT500 Shelby cars) with a heavy-duty dual plate clutch. The car features a K&N intake and filter along with working side pipes and tuned by CPV Performance in Mackay QLD. The Cobras' front suspension is from a Nissan 300ZX and the rear suspension is from an R32 Nissan Skyline. Power assisted disc brakes all round provide decent stopping power.
The body has been nicely smoothed and painted in 2Pac pearl white with dark metallic blue stripes. The paint lays nicely over the body and presents very well all round. The chrome roll bars, bumperettes and windscreen surround are all very nicely presented and shine brightly in the sun. The interior is all black and classy inside with a Hurst manual shifter sitting proud on the console. The car is finished with a set of American Racing 17" Shelby wheels and tyres with three spoke knock-off style caps. Cobras are always popular and fun little cars and this one has the best of available modern drivetrain technology and is an absolute weapon to drive. Not for the faint of heart.
PLEASE CALL LOCKY MCCANN WITH SALES ENQUIRIES ON 0403 935 488
Located at 2 Palings Court, Nerang on the Gold Coast.
PLEASE NOTE: Vehicle information is provided to us by the consignee and we do everything we can to qualify the best classic cars in the Australian market to represent. Our intentions are to showcase our stock in the best light but also to not mislead potential buyers.
Seven82Motors operate with honesty and integrity and are here to provide as much detail about each vehicle for sale, but it is ultimately the buyers responsibility should they choose or choose not to inspect the vehicle themselves prior to bidding.
All vehicles are sold under standard auction conditions. Consignment/auction vehicles are sold as is, without a cooling off period or warranty. All vehicles are also sold without registration unless otherwise stated. Independent inspections are most welcome as we encourage prospective buyers to make informed decisions.