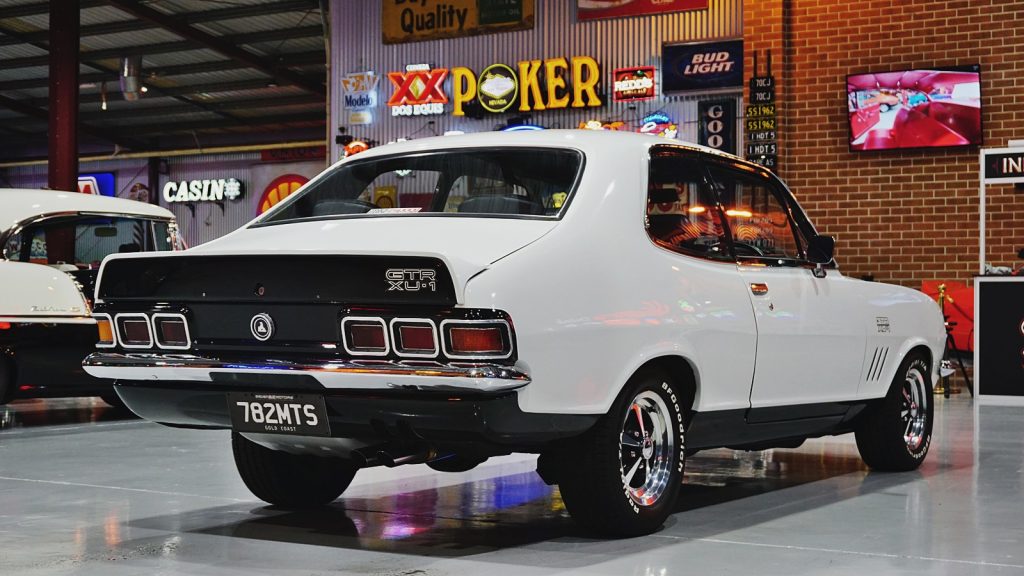 1972 Holden Torana LJ XU1
HIGHLIGHTS: – Genuine GTR XU1 – Repainted in original colour in 2007 – 202ci 6 cylinder engine – Factory triple carburettor setup – M21 4 speed manual transmission – Only 1,667 LJ GTR XU1's built – Factory presentation – 17 gallon tank
This 1972 Holden Torana GTR XU1 has been with the current owner for 17 years. He purchased the car from a mechanic in Karalee, QLD who had recently rebuilt the engine at the time. The car was in good condition when he purchased it. Two years into owning the car, the decision was made to strip it down and repaint the car in the original colour, Code 13134, Glacier White. Any necessary repairs were undertaken and the paintwork professionally applied. The original Code 40X Black Roebuck interior was given a freshen up with new seat covers and door trims.
The engine was rebuilt using a period correct, non-original block which has been restamped with the original engine number. The rest of the parts on the engine were reconditioned and reused including the head and triple carbs. The engine is a cranky little bugger and puts out more power than they did from the factory. The engine is paired to an M21 4 speed manual transmission. The current owner took the XU1 down the ¼ mile where he tells us it ran a 13.9 second pass on a conservative take off.  This is a vast improvement on the 15.9 seconds claimed from factory.
These XU1 Torana's were a change in philosophy for Holden on the race track, away from the big heavy brute power V8s to a more technical smaller and more nimble race car that would out handle and out brake the competition. In 1972, an LJ GTR XU1 won Bathurst at the hands of Peter Brock, beating the previously dominant GTHO Phase III Falcons and forever cementing their place in Aussie motoring history.
☎️ PLEASE CALL LOCKY MCCANN WITH SALES ENQUIRIES ON 0403 935 488
Located at 2 Palings Court, Nerang on the Gold Coast.
PLEASE NOTE: Vehicle information is provided to us by the consignee and we do everything we can to qualify the best cars in the Australian market to represent on consignment. However they are still old cars and we can't capture everything in the photos or know everything about them, it is the responsibility of the buyer to have thoroughly inspected the vehicle, and to have satisfied themselves as to the condition and value and to purchase based upon that judgement solely. All vehicles are sold under standard auction conditions, consignment and auction vehicles are sold as is, without registration unless otherwise stated and there is no cooling off period or warranty expressed, written or implied. Independent inspections are welcome and encouraged.