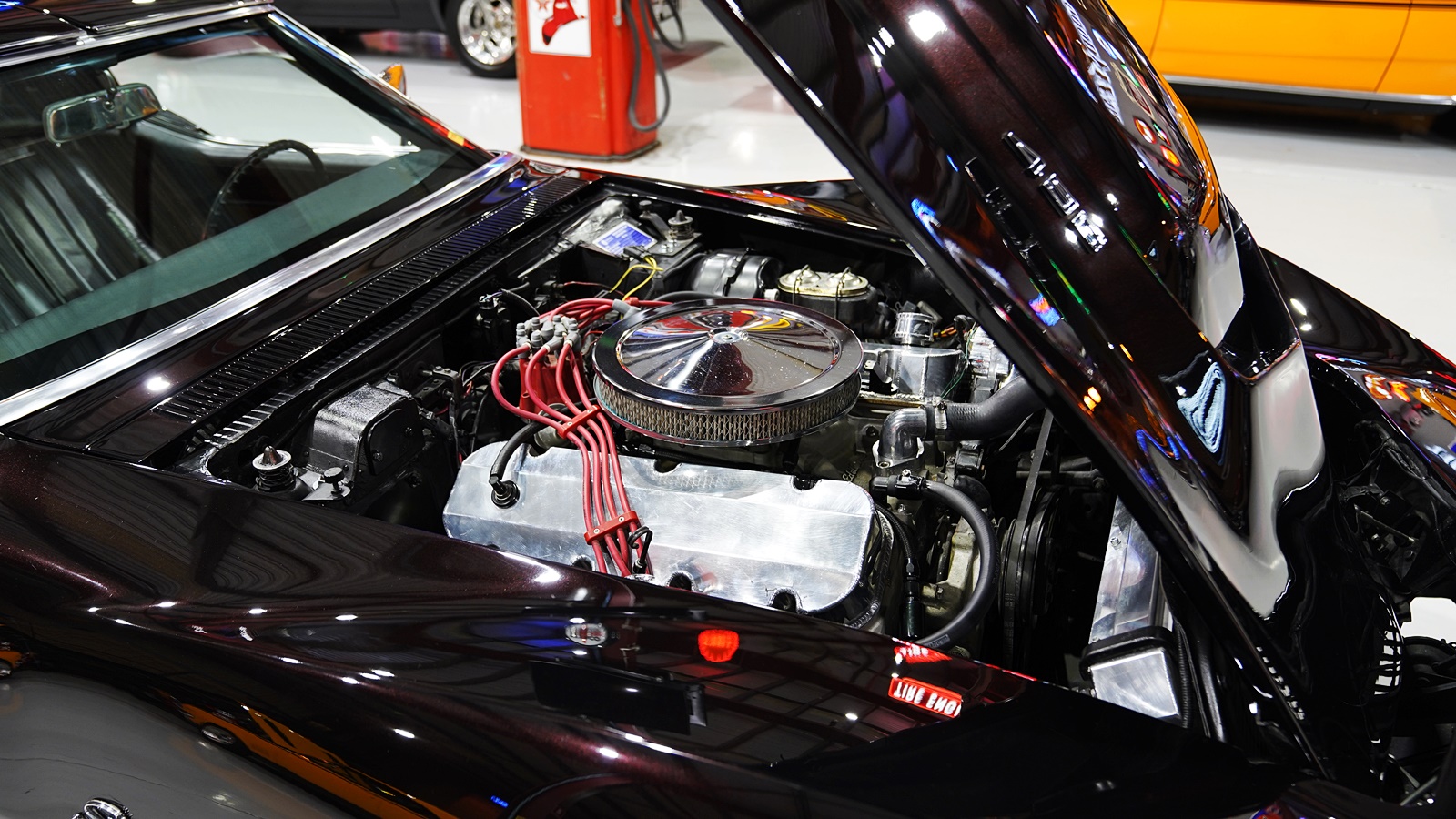 1970 Chevy Corvette Big Block
HIGHLIGHTS: – Desirable chrome bumper C3 – Factory big block car – Rebuilt matching numbers engine – Stroked from 454 to 496ci – Four speed manual transmission – Repainted in deep cherry black – Electric converted lights and wipers – Power windows
This 1970 Chevy Corvette is a well optioned, factory big block, chrome bumper C3. The early chrome bumper cars are the most desirable of the C3 generation and this one has been tastefully upgraded and is loaded with options.
The current owner purchased the car approximately 12 years ago. At that stage the car was a running and driving project that had freshly been imported from the US. Someone had started working on the car but it needed a lot of work to bring it up to what it is today. The project was a slow burn for the first 10 or so years, slowly collecting parts over time.
 Approximately 2 years ago, the matching numbers engine was pulled out of the car for a rebuild. The engine was fully rebuilt and stroked to 496ci receiving a 9000 series two-piece crank, new conrods, SRP flat top pistons, main bearings, high volume oil pump, hydraulic lifters, heavy duty valve springs, roller rockers, Bootlegger flat tappet cam, Edelbrock Performer manifold and 870 CFM street Avenger carburettor. Spark is provided by an MSD Blaster 2 coil and a pro billet distributer. A set of aftermarket headers and custom exhaust give the big block a nice rumble. While the engine was out, the owner decided he may as well give the transmission a freshen up so the four-speed manual was removed and refurbished. Since the engine and trans were both being done, it only made sense to do the differential as well, so that was also rebuilt and changed from 3.08 diff gears to 3.7 ratio. The suspension and brakes were given the once over with a power booster being added to the factory braking system.
Earlier this year, the body of the car was fully professionally repainted in a neat Cherry Black metallic colour. The paintwork has been completed to a high standard and presents very well all round. The chrome bumpers and trim were also refurbished or replaced. The tail lights have been converted over to LED items. Since the new bigger cam didn't make a lot of vacuum at idle, the vacuum operated systems like the pop up headlights and wiper cowl were replaced with electric conversion kits. The wheels are originals that were restored with new dress trims and tyres all round.
Inside the trim is nicely finished in a factory style. The seats received new leather trim and the carpets were all replaced. Some nice options include power windows, power steering, power disc brakes and lamp warning indicators. The steering column was also replaced with a brand new item. As with all C3 corvettes, the coupes have targa tops that can be removed for that 'wind in your hair' experience. The end result of all of this is a very desirable, factory big block, chrome bumper C3 Corvette with lots of great options and upgrades.
PLEASE CALL LOCKY MCCANN WITH SALES ENQUIRIES ON 0403 935 488
IMPORTANT: Vehicle information is provided to us by the consignee. We do everything we can to qualify the best cars in the Australian market to represent on consignment for private sellers however, they are still old cars and we can't capture everything in the photos, we don't drive them any significant distance and can't know everything about them. It is the responsibility of the buyer to have thoroughly inspected the vehicle, and to have satisfied themselves as to the condition and value and to purchase based upon that judgement solely. Vehicles may have been sitting for some time and it is suggested that to protect your investment, you allow to change fuel, oil, fluids, filters and inspect brakes prior to use. All vehicles are sold under standard auction conditions, consignment and auction vehicles are sold as is, without registration unless otherwise stated and there is no cooling off period or warranty expressed, written or implied. All sales are final. Independent inspections are welcome and strongly encouraged to help with your decision making.
Located at 2 Palings Court, Nerang on the Gold Coast. Inspections by appointment during auction and public openings/viewing as advertised.