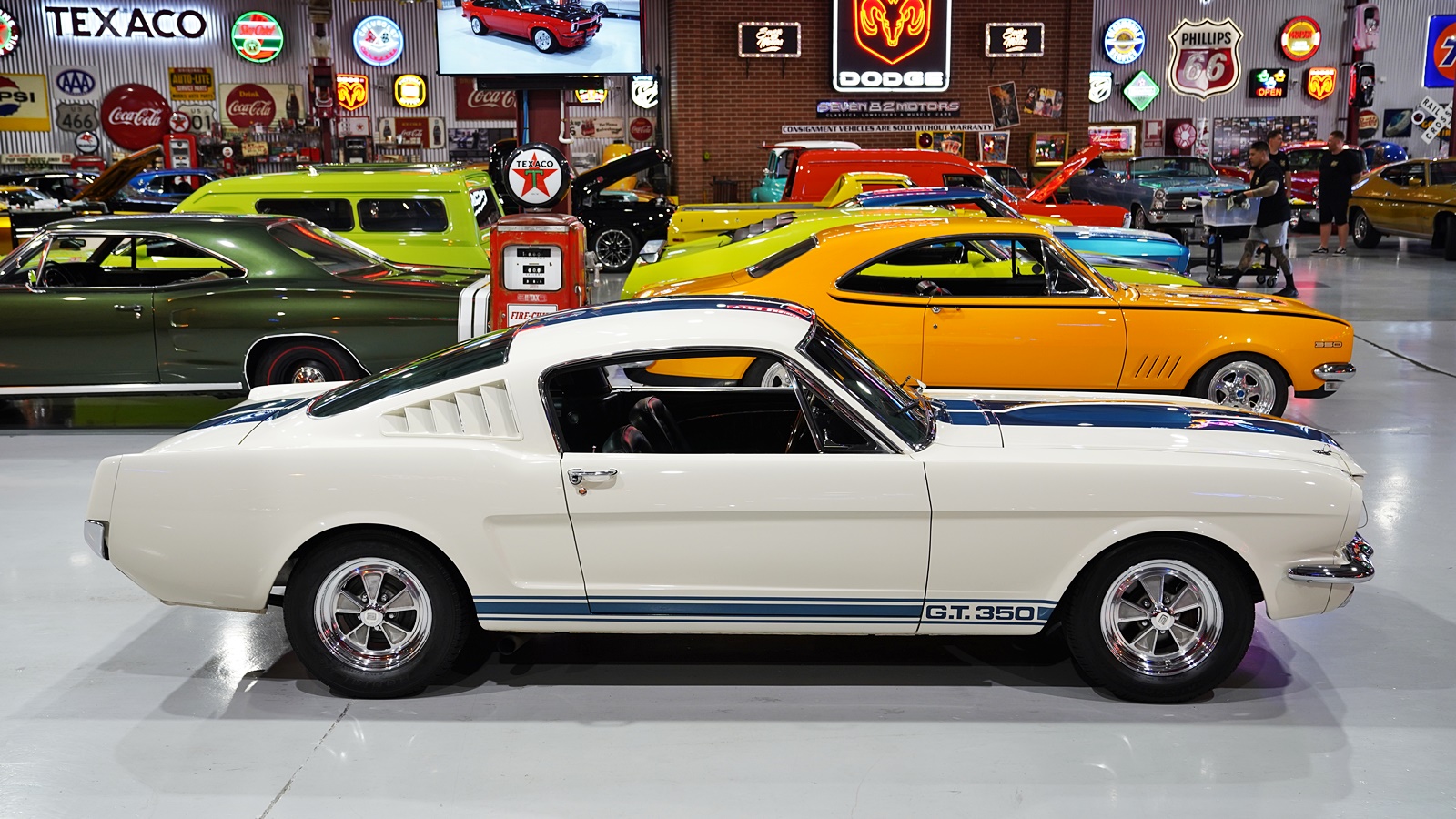 1965 Ford Mustang K Code Fastback GT-350 tribute
HIGHLIGHTS: – Rare K code HiPo 289 Fastback – Fully rebuilt as Shelby GT-350 tribute – Many Shelby correct details – Fully rebuilt 289ci V8 engine – Period correct Paxton supercharger – 4 speed manual transmission – Signed and driven by Carroll Shelby
This 1965 Ford Mustang Fastback is an original K code car that has been extensively rebuilt into a Shelby GT350 replica. The rebuild of this car is the passion of a Gent named Jay Eddie who was passionate about building the most accurate GT-350 car he could. Jay lived and worked in San Diego California, in an exotic car dealership when his hunt began. After some searching he was offered a fairly run down K-code, 4 speed, 65 fastback that was part of a large private collection of high end Mustangs. After many months of negotiating he purchased the car, it was run down and needed a restoration but was complete and the performance from the little 289ci V8 blew him away.
A gentleman named Bob Baeuconde was entrusted to perform the restoration of the car, Bob raced an original GT-350 and was a personal friend of Carroll Shelby at the time. Many of the parts Shelby used for his cars, the owner was able to source through their contacts and include in this build. Original over-ride traction bars including fiberglass interior traction bar and linkage boxes, original profile and gauge export brace, exclusive grille-delete lower trim centre and original spec Talbot racing mirror to name a few. The rear seat delete fiberglass parcel tray was even sourced from the original fabricator who was contracted for the Shelby cars.
The body of the car received the necessary repaints using Bob's fabrication team before the shell was sent to be professionally repainted in the only colour available on a '65 GT-350, White with Blue stripes. The chrome bumpers and badges were all refinished or replaced and the look is completed with a set of Shelby wheels.
The K code, high performance 289ci V8 was fully rebuilt and adorned with everything Shelby would have had on his engines. It was at a later date that the decision was made to put an authentic Paxton supercharger on the car which was installed and tuned by the gent who purchase the rights to the original Paxton of Shelby, Mr Craig Conely. Unfortunately during this process the original K code heads were tested and found to be no good meaning they had to be replaced with standard heads modified with larger diameter valves and other tricks of Craigs. A Demon Carburettor was also fitted on Craigs recommendation because it could outperform the Holley item that would have been fitted back in the day. The original 4 speed top loader was rebuilt and replaced, this is one of the few non Shelby specific items in the car but a great gearbox with no need to replace.
The brakes and steering were all fully rebuilt to Shelby specifications. Other Shelby items included in the build are aircraft 3" seatbelts, correct spring horn toggle switch, Shelby door sill plates, period radio and heater delete panels and Koni sportsman shock absorbers. When the car was completed, Carroll Shelby actually drove the car (prior to the supercharger) Jay says that is was quite the experience to be sitting beside Shelby himself, in his car, tearing up the 405 in Los Angeles. Later Jay moved to Australia with the car being shipped ahead of him and displayed in the Ford Museum in Geelong. Short of the Shelby tag over the correct K code VIN, even experts would struggle to differentiate this car from the real deal.
IMPORTANT: Vehicle information is provided to us by the consignee. We do everything we can to qualify the best cars in the Australian market to represent on consignment for private sellers however, they are still old cars and we can't capture everything in the photos, we don't drive them any significant distance and can't know everything about them. It is the responsibility of the buyer to have thoroughly inspected the vehicle, and to have satisfied themselves as to the condition and value and to purchase based upon that judgement solely. Vehicles may have been sitting for some time and it is suggested that to protect your investment, you allow to change fuel, oil, fluids, filters and inspect brakes prior to use. All vehicles are sold under standard auction conditions, consignment and auction vehicles are sold as is, without registration unless otherwise stated and there is no cooling off period or warranty expressed, written or implied. All sales are final. Independent inspections are welcome and strongly encouraged to help with your decision making.
PLEASE CALL LOCKY MCCANN WITH SALES ENQUIRIES ON 0403 935 488
Located at 2 Palings Court, Nerang on the Gold Coast. Inspections by appointment during auction and public openings/viewing as advertised.