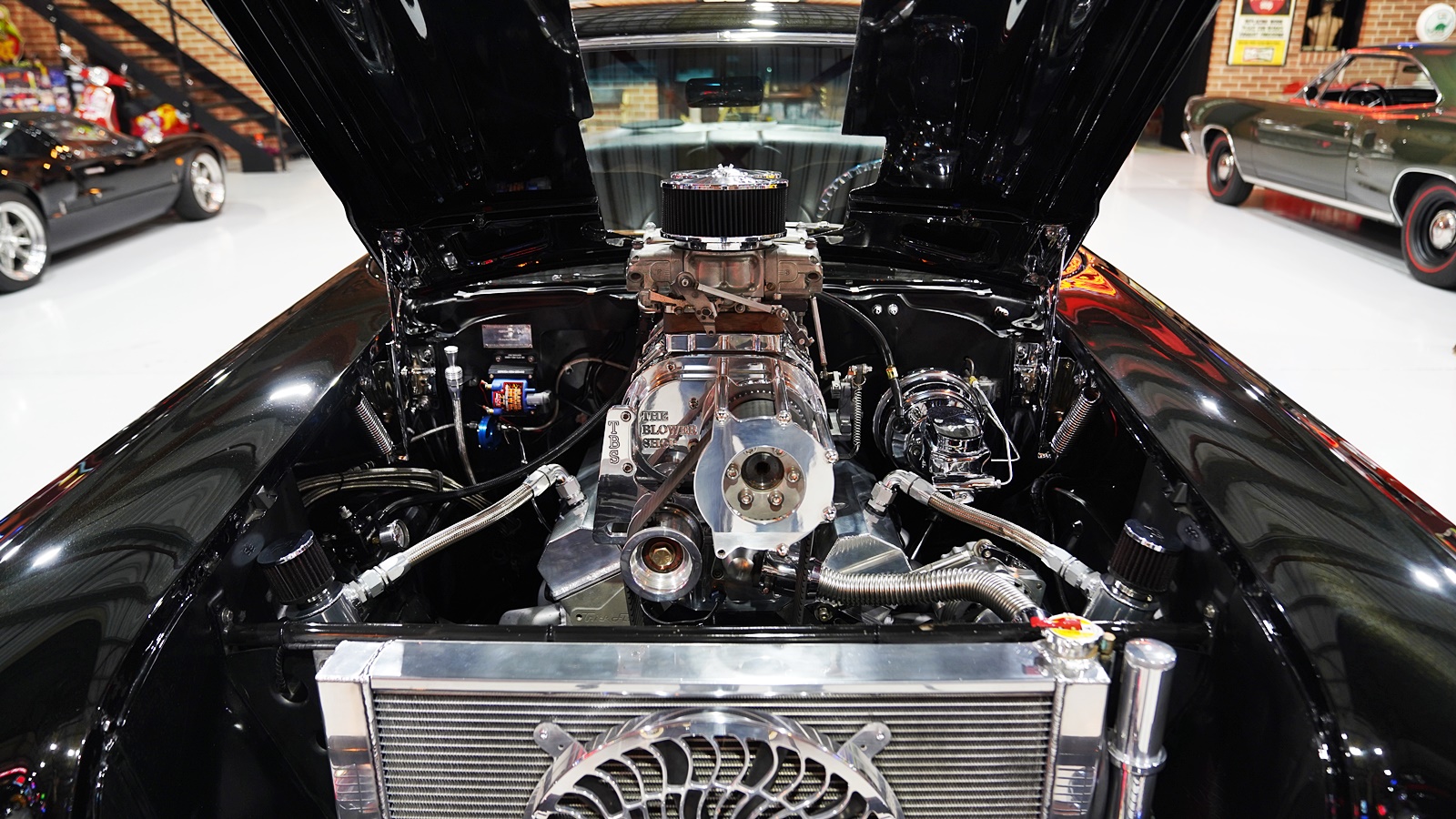 1957 Chevy 210 Coupe Blown
HIGHLIGHTS: – Rebuilt into tough street car – Professionally repainted in Metallic Black – All new chrome and stainless trim – Built 400ci Chevy V8 using Dart block – TBS 6/71 supercharger with twin carbs – Turbo 400 automatic transmission – Custom interior with bucket seats – Mini tubbed in the rear – Four wheel disc brakes – 20/22" Billet wheel combo
This 1957 Chevy 210 Coupe has been fully rebuilt into one tough street machine! The body of the car was stripped back and fully repainted in 2 pac Metallic Black in 2014. The paint has been professionally finished and has a slight gold flip in the sun. All of the chrome and bright work on the car has also been refinished or replaced during the resto. For a cleaner look the quarter windows have been deleted and replaced with one piece glass. The car has been mini tubbed in the rear to fit some meaty tyres. Completing the look externally is a set of Billet specialties wheels measuring 20×8" up front with 255/35/20 tyres and 22×12" in the rear with 315/30/22s.
Inside the car has received a complete custom interior in Black and Grey Vinyl. The front seats have been converted to buckets with a custom centre console running through the middle. In the top of the console is a suite of Autometer gauges to keep an eye on whats happening under the bonnet in addition to the factory gauge cluster. There are moulded shift lights and a Hurst automatic shifter. The steering column is tilt adjustable and chrome from Billet Specialties who also supplied the steering wheel. The boot is panelled out and trimmed to match the interior with a neat stereo install for some tunes while cruising.
Under the bonnet is a Blown 400 ci small block Chevy V8 built by Feneck's Race Engines. The engine which was built in 2019 is put together using a Dart block and Trick flow heads topped with a 6/71 supercharger supplied by The Blower Shop. Fuel is fed through twin Holley Demon 650 double pumper carbs. Spark is supplied by an MSD 6BTM ignition system and exhaust gasses are expelled through custom 1 7/8", 4 into 1 headers flowing into a custom 3 ½" dual stainless exhaust. Things are kept cool by an alloy radiator with thermos fans. The car has that unmistakable blower whine and the engine bay is well presented with lots of polished pieces and chrome. The engine is paired to a Turbo 400 automatic transmission with manual valve body and 3500 stall converter. Power is fed to the rear wheels through a 3" tail shaft into a braced 9" diff with LSD centre, 3.0:1 gears and 31 spline billet axles. A set of Caltracs help the rear suspension put down the power. Helping to stop all that horsepower is a set of Wilwood disc brakes on all four wheels.
This is a tough streeter, two door 57 Chevy that has been upgraded with a long list of quality parts. These 57 Chevys are iconic and this is certainly a cool example.
IMPORTANT: Vehicle information is provided to us by the consignee. We do everything we can to qualify the best cars in the Australian market to represent on consignment for private sellers however, they are still old cars and we can't capture everything in the photos, we don't drive them any significant distance and can't know everything about them. It is the responsibility of the buyer to have thoroughly inspected the vehicle, and to have satisfied themselves as to the condition and value and to purchase based upon that judgement solely. Vehicles may have been sitting for some time and it is suggested that to protect your investment, you allow to change fuel, oil, fluids, filters and inspect brakes prior to use. All vehicles are sold under standard auction conditions, consignment and auction vehicles are sold as is, without registration unless otherwise stated and there is no cooling off period or warranty expressed, written or implied. All sales are final. Independent inspections are welcome and strongly encouraged to help with your decision making.
PLEASE CALL LOCKY MCCANN WITH SALES ENQUIRIES ON 0403 935 488
Located at 2 Palings Court, Nerang on the Gold Coast. Inspections by appointment during auction and public openings/viewing as advertised.