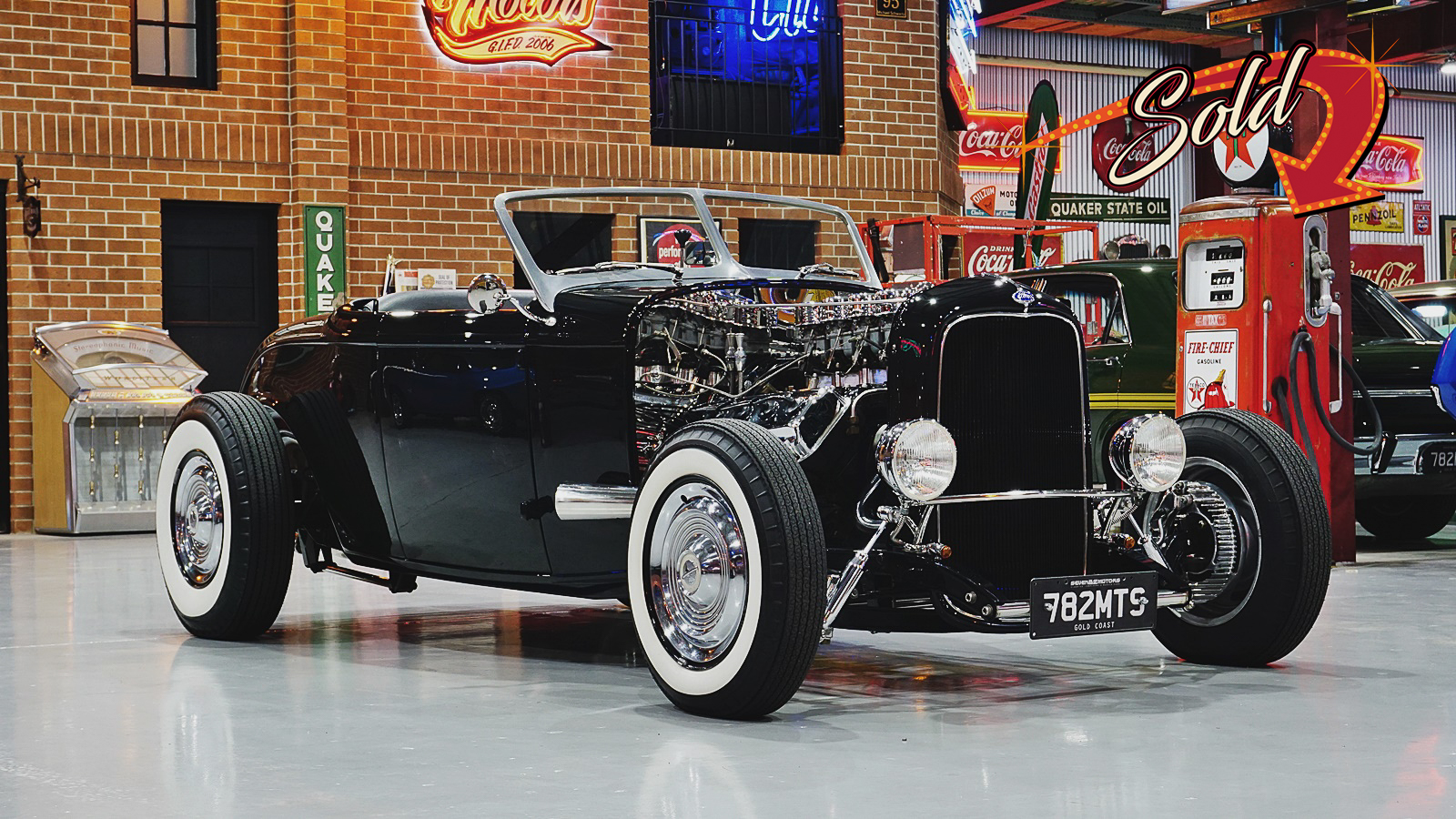 1932 Ford Roadster Hot Rod
HIGHLIGHTS: – All steel Brookville body – 276ci Desoto Firedome Hemi V8 engine – 4x 2bbl Stromberg carburettors – Turbo 700, 4 speed automatic transmission – Traditional drop axle front end – Four link and coil over rear end – Ford 8.8 diff with LSD and 3.7:1 gears – Body channelled 100mm over frame – Custom removable hard top – Duvall split windscreen – Dicky seat – White wall tyres with period hubcaps – Removable cycle guards for street use
This 1932 Ford Roadster has been professionally built into an incredible traditional style hot rod. The car was built locally here on the Gold Coast by Adam from 'Burleigh Roadsters' as his personal rod. The build began in 2008 with a trip to the states to purchase a bunch of high quality parts. The rod was built using the best available gear and completed in 2010 where it was debuted at the Valla Ron Run. Initially the car was finished in bare steel and brushed to a neat consistent finish and clear coated. During this phase of its life, the car was highly awarded and featured in a number of magazines including the covers of 'Nitro' and 'Cruzin' Magazines along with a feature in Australian Street Rodder.
In 2013, Adam sold the Roadster to a gentleman in South Australia. The new owner took great care of the rod, redoing the interior trim neatly in black leather using a 'tuck and roll' traditional style. Adam regretted selling the Hemi roadster and had built a couple of rods since, one of which he swapped back for the Hemi roadster in 2016. When Adam got the car back, he decided to give it a minor make over including painting the car gloss black. He had always intended for the car to eventually be finished in black having painted the underside, dash and door jambs this colour during the initial build.
In 2019 the car received it final make over into its current state. By this time, restoring early style hot rods had become more popular. Inspiration was drawn from Gary Wrights blue roadster that had been restored by Michael Morris to embrace its 4 inch channel and style it similar to the early 60s show rods here in Australia. The obvious changes this time included a swap to wide white wall tyres with 55 Oldsmobile polished hub caps. Adam sourced an original 32 Ford heavy axle and had it 'dropped' by Gary Page to replace the generic one previously in the car. A Custom made stainless rear nerf bar was also added along with Kingbee headlights and a Limeworks stainless headlight bar.
This is one of the coolest and most iconic hot rods around, professionally built with all of the right gear. There is over 1000 hours of work into this hot rod and opportunities to buy cars like this rarely present themselves. The car is mod plated LH10 for full QLD registration and has also been previously registered in SA.
☎️ PLEASE CALL LOCKY MCCANN WITH SALES ENQUIRIES ON 0403 935 488
Located at 2 Palings Court, Nerang on the Gold Coast.
PLEASE NOTE: Vehicle information is provided to us by the consignee and we do everything we can to qualify the best cars in the Australian market to represent on consignment. However they are still old cars and we can't capture everything in the photos or know everything about them, it is the responsibility of the buyer to have thoroughly inspected the vehicle, and to have satisfied themselves as to the condition and value and to purchase based upon that judgement solely. All vehicles are sold under standard auction conditions, consignment and auction vehicles are sold as is, without registration unless otherwise stated and there is no cooling off period or warranty expressed, written or implied. Independent inspections are welcome and encouraged.