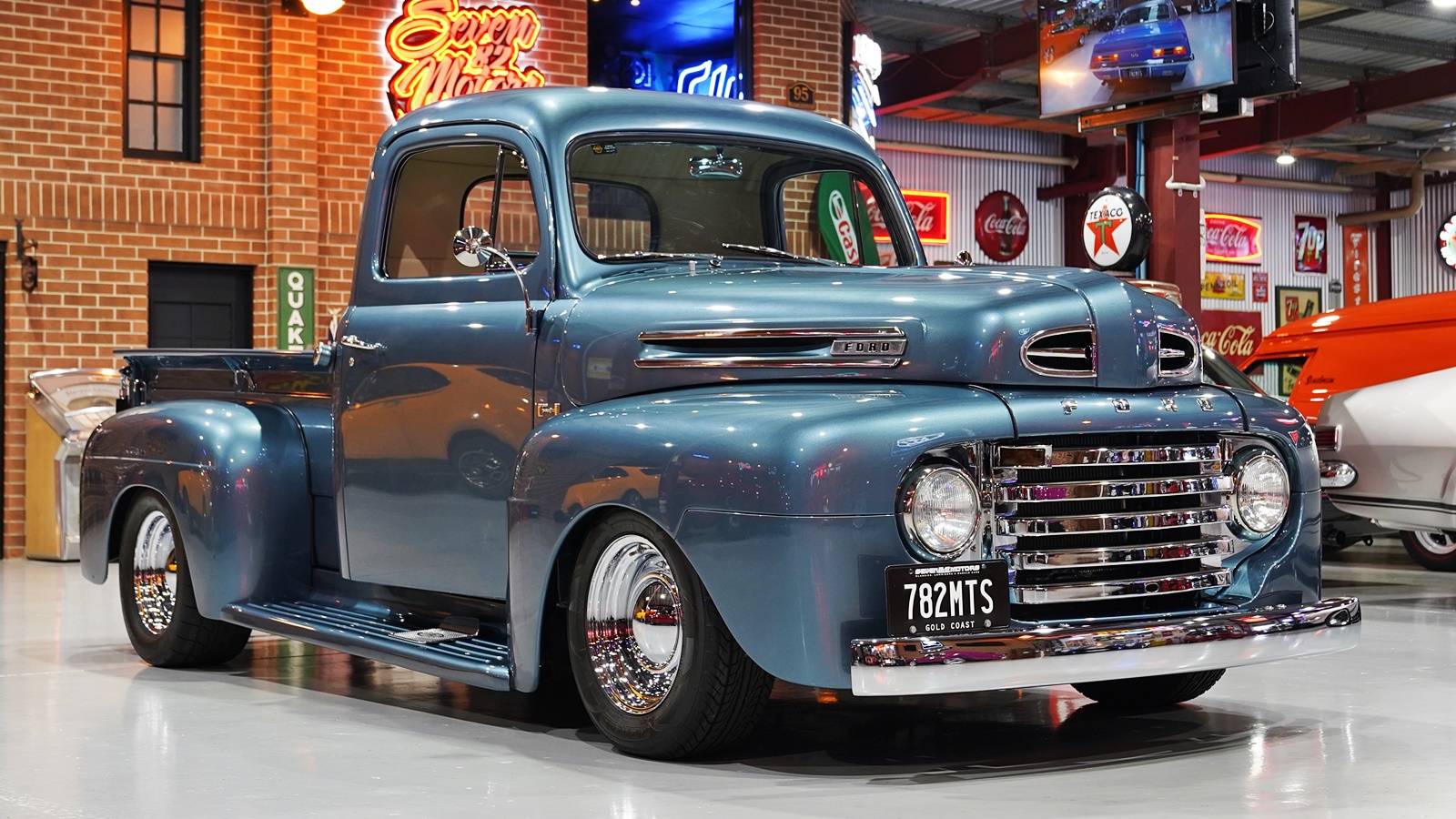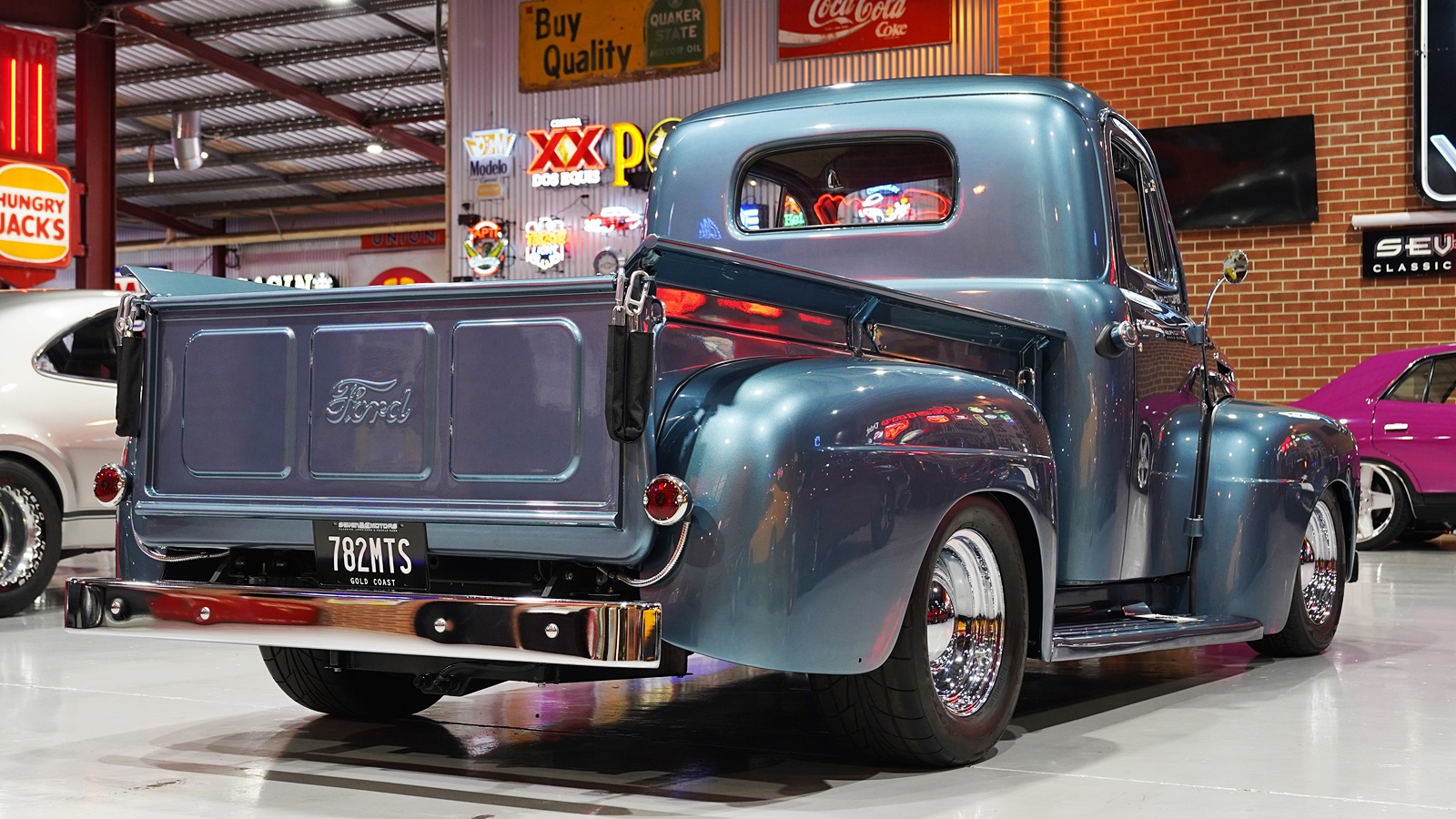 1950 Ford F1 Pick Up
HIGHLIGHTS: – Ground up custom build – 327ci Chevy V8 engine – Turbo 350 automatic transmission – Independent front suspension – Power disc brake front end – Custom paintwork – Custom interior
This 1950 Ford F1 pick up has been fully rebuilt from the chassis up. Purchased in the USA in 2016, the truck was a neat driver with a 327 Chevy V8, automatic transmission, Camaro front clip with power steering and 9" diff. All of the right ingredients were there to make a good cruising truck. Upon getting the truck back on Aussie soil, the decision was made to pull the engine out of the car for a freshen up. This was easier to do with the front guards and bonnet removed, which quickly escalated into the truck going back to a bare chassis for a full rebuild.
Under the bonnet, the 327ci Chevy v8 underwent a full rebuild and has been upgraded with a mild cam, Edelbrock intake and matching four-barrel carb. Spark is provided by an MSD ignition system. The engine isn't run in yet and would have only travelled less than 20kms since completion. The Turbo 350 automatic transmission has also been rebuilt with a 2500rpm stall converter and Lokar shifter. Power is fed to the rear wheels through a 9-inch diff with 31 spline axles and Detroit tru-trac centre. The frame itself was blasted a treated to a fresh coat of paint prior to reassembly. The front end is an independent double wish bone, Camaro front clip with disc brakes and power steering.
Outside, the body of the truck went through a full rework with lots of panel beating and massaging to get everything nice and straight and ensure it fit properly. The truck then received a full repaint in PPG Gunmetal blue. The tail gate has been welded up for rattle free cruising but has had the chains put back on the bed to create the illusion of factory. All of the chrome was replated or replaced including the grille and front and rear bumpers. The look externally is finished off with a set of chrome smoothie wheels.
Inside the car has received a complete retrim from top to bottom in two tone cream and blue. Up top there is a full headliner with a neat stitching detail. There is a factory style bench seat with enough room for 3 people comfortably. The dash is painted to match the exterior and there is a set of Dakota digital gauges front and centre while a Lokar auto shifter pokes it's head up from the floor. Since the truck was never destined to see a workload in its life, the back received custom trimmed side panels with a new timber bed floor and fuel cap to access the new tank under the bed. The truck is featured on the front cover of the current, March 2022 Cruzin Magazine, Hot Rod Haulers #3. These 50s American pick ups are always hot property when we get them in stock and this one is well built in a timeless style.
☎️ PLEASE CALL LOCKY MCCANN WITH SALES ENQUIRIES ON 0403 935 488
Located at 2 Palings Court, Nerang on the Gold Coast.
PLEASE NOTE: Vehicle information is provided to us by the consignee. We do everything we can to qualify the best cars in the Australian market to represent on consignment however, they are still old cars and we can't capture everything in the photos, we don't drive them any significant distance and can't know everything about them. It is the responsibility of the buyer to have thoroughly inspected the vehicle, and to have satisfied themselves as to the condition and value and to purchase based upon that judgement solely. Vehicles may have been sitting for some time and it is suggested that to protect your investment, you allow to change fuel, oil, fluids, filters and inspect brakes prior to use. All vehicles are sold under standard auction conditions, consignment and auction vehicles are sold as is, without registration unless otherwise stated and there is no cooling off period or warranty expressed, written or implied. Independent inspections are welcome and encouraged.