SOLD SOLD SOLD!
1981 Ford Falcon XD Sundowner Panelvan
NOTE: There are a lot of photos in this listing, there's just so much detail to capture, please let your computer have a minute to load up all the images from the car as it is now in detail and a heap of build shots showing its restoration lower in the images… there is also a YouTube video in detail to help you get a walk around the car.
Having restored a GT sedan in the past, the owners of this car were looking for a panel van project and being a Ford nut he was quite clear about not doing a Sandman… This is the result of all his hard work… A fully restored, nut and bolt 1981 Ford Falcon Sundowner Panelvan, multi award and trophy winning car with only 1,221K's travelled since it's restoration. So here's a bit about it…
This Sundowner was found locally to the owner and was a country car from the St George area in south-western Queensland. It was in need of a full restoration but the body was solid and only needed some rust repairs in the sills and some panel work so the shell was stripped for a full body restoration so the assembly could be done like a band new car. The whole thing ended up on a rotisserie, so every nut, bolt and screw was replaced or replated and reconditioned.
This was originally a factory 302 V8 manual, the owner had the engine built and dressed as a 351 Cleveland bolted up to a reconditioned single rail 4 speed manual transmission, reconditioned Borg Warner diff with 4 wheel disc brakes, it also has reconditioned factory power steering and air conditioning. The car has been built to look as factory as possible with only a few internal mods, a Holley carburettor lives under the 5.8 air cleaner and you know when you turn the key that she's not stock and has a nice cammy rumble to her.
When it came to reassembly, parts were a challenge, they are out there but it took years to get everything together and quite a bit of NOS pieces were used in the build.
It took two-and-a-half years to build and spent the first 18 months in the panel shop to do everything correctly and you have to remember this was an inside and out body resto. The assembly took about a year and the owner had the best part of everything lined up to go back together once the body was done… the engine was ready, the gearbox was done, the dash reconditioned, the seats redone – it's quite a list but it was prepared while the shell was being restored. With that said don't assume this was an easy build, the graphics alone were a massive undertaking. A company in Ballarat reproduced them.. He does a very good kit but the application was incredibly laborious, a very experienced sign writer spent two weekends doing the install.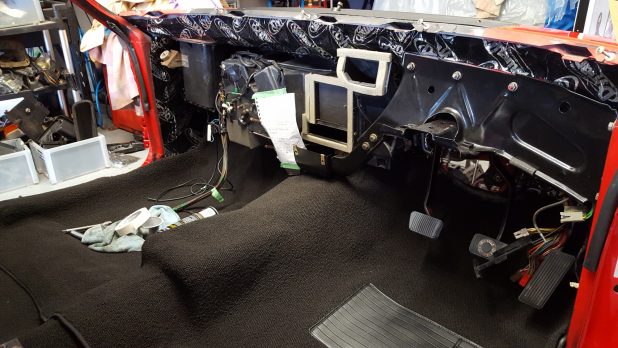 The spoiler on the rear of the roof is also a ridiculously impossible item to find but luckily was still on the van when purchased. It's a very rare piece and was factory-fitted. It's made from a rubber-like compound and is quite flexible and can crack quite easily so this van is lucky to still have it's spoiler.
With only approximately 250 Sundowners ever built this is an incredibly rare and immaculate van. Only around 90 of them where built in 1981 making the XD Sundowner van a real unicorn. There were even less in 1982 and then the Sundowner badge disappeared forever.
Scroll through the photos, take it all in… I don't think you'll get to see another like this any time soon.
PLEASE CALL US ON 0755 966 566 OR 0416407540 WITH INQUIRES OR EMAIL

[email protected]
Located at SEVEN82MOTORS Classic's, Lowriders & Muscle cars, specializing in Australian & American car sales and available to view in the showroom at 132 Spencer Road, Nerang on the Gold Coast, Queensland. Due to COVID19 we are operating with the door down and by appointment only, we are practising social distancing so please be mindful of the 1.5m rule if you visit, we also have sanitiser on the counter for the public.
PLEASE NOTE: This vehicle is being sold on consignment, consignment vehicles are sold as is without registration unless otherwise stated and there is no cooling off period or warranty expressed written or implied by the consignee. Information is provided to us by the consignee and is the responsibility of the buyer to have thoroughly inspected the vehicle, and to have satisfied himself or herself as to the condition and value and to purchase based upon that judgement solely.