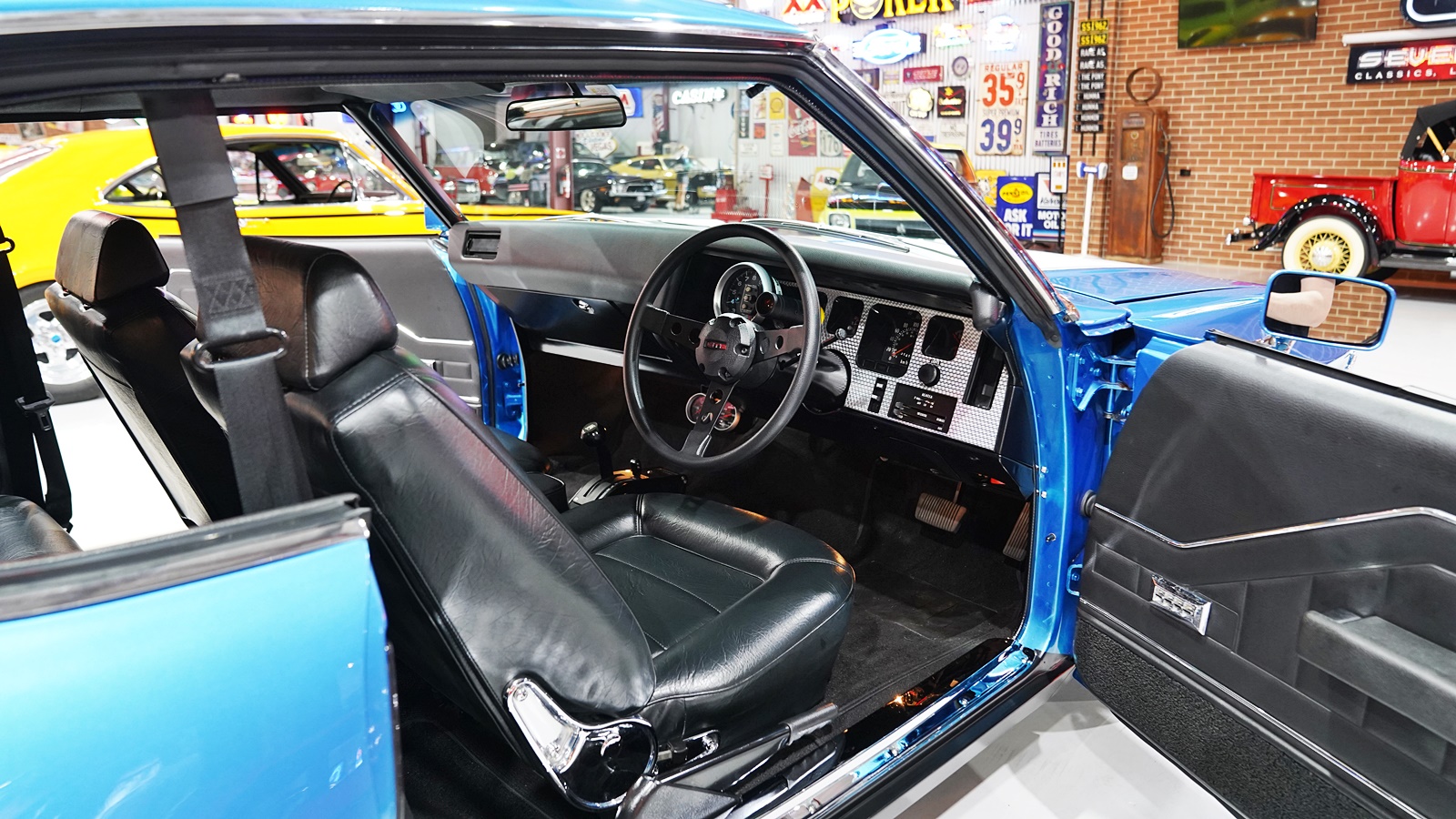 1973 Holden HQ Monaro Coupe
HIGHLIGHTS: – HQ Monaro Coupe – Full professional repaint with GTS additions – Refinished interior in black – Tough bult 421ci Chevy V8 – Built TH400 Auto with manualised body – Built 9 inch differential – Dyno sheet for 623.7 hp – Tubbed rear end with super low stance – Weld V-series wheels
This 1973 Holden HQ Monaro Coupe has been tastefully modified into an understated tough street car. The car is an original LS that has been fully rebuilt by Dave Gilford approximately 5 years ago as a tough GTS tribute. The body on the car has been completely restored before being repainted in its original Cyan Blue Metallic with the addition of white GTS stripes. The body hasn't been through extensive custom modifications, outside of the usual GTS gear it has been tubbed in the rear to fit some fatter tyres and get the stance nice and low. The other hint that something other than factory lies beneath is the Weld V-series wheels measuring 17×4.5" up front and 15×8" in the rear.
Inside is a similar story, the understated theme is continues with a factory style interior refinished in black vinyl. The dash pad is new with a fish-scale dash fascia. There is an Autometer Monster Tacho with shift light up on the steering column and a pair of Autometer gauges under the dash. Splitting the bucket seats is a B&M Pro Ratchet shifter. A Kenwood sound system is hidden away, with 4in speakers up front and 6in speakers under the parcel shelf.
Under the bonnet is where the party get started with a solid roller, 421ci small block Chevy V8 making a dyno proven 623.7 hp at the rear treads. The engine uses a Dart block as the base with a Scat 4340 crank, custom CP pistons and Scat H-beam rods, plus a custom 267/275/106 solid-roller cam to push the Crane Ultra Pro Series lifters and pushrods. A pair of AFR 220 heads have been paired with PAC Racing valve springs, with a custom 1000cfm Pro Systems carb and Edelbrock Vic E-series single-plane manifold. The oil system uses with a custom 6.5L Russell oil pan, while a Shark Tooth high-volume oil pump and upgraded ARP shaft ensures solid supply. While previously set up on E85, the engine is now tuned to run straight 98 octane pump gas supplied by twin Holley HP 150 pumps. Spark is handled by a MSD Pro-Billet distributer, MSD 2 coil and an MSD 6AL-2 ignition box. Spent gases are evacuated through HPC-coated Pacemaker extractors and down a twin three-inch custom exhaust by Blitz Exhausts. The engine bay is extremely well presented with a set of custom Alloy billet rocker covers, Reidspeed polished billet heater plate and billet bonnet hinges.
The engine is paired to a built, manualised TH400 that sits behind a 5200rpm converter. The engine and trans were both recently rebuilt. Feeding power to the 26x6x17 Mickey Thompson rear treads is a nine-inch Diff built from a Strange Engineering case packed with 31-spline billet axles, a Truetrac centre, alloy pinion support and 3.7 gears. Front suspension is Pedders springs with Competition Engineering three-way adjustable shocks and heavy duty sway bar. The rear is reset King springs with Pedders shocks. Stopping power is provided by RDA with HZ discs up front.
Upon completion, the car was featured in the March 2021 issue of Street Machine Magazine. Holden HQ Coupes are right up there for the most popular Aussie Muscle cars we get asked for. This one finished to a high standard, in a great colour combo with some tastefully modification certainly ticks all the boxes for a tough street machine.
IMPORTANT: Vehicle information is provided to us by the consignee. We do everything we can to qualify the best cars in the Australian market to represent on consignment for private sellers however, they are still old cars and we can't capture everything in the photos, we don't drive them any significant distance and can't know everything about them. It is the responsibility of the buyer to have thoroughly inspected the vehicle, and to have satisfied themselves as to the condition and value and to purchase based upon that judgement solely. Vehicles may have been sitting for some time and it is suggested that to protect your investment, you allow to change fuel, oil, fluids, filters and inspect brakes prior to use. All vehicles are sold under standard auction conditions, consignment and auction vehicles are sold as is, without registration unless otherwise stated and there is no cooling off period or warranty expressed, written or implied. All sales are final. Independent inspections are welcome and strongly encouraged to help with your decision making.
PLEASE CALL LOCKY MCCANN WITH SALES ENQUIRIES ON 0403 935 488
Located at 2 Palings Court, Nerang on the Gold Coast. Inspections by appointment during auction and public openings/viewing as advertised.