SOLD! 1967 Mustang Fastback
 WHILE THIS CAR IS NO LONGER AVAILABLE WE STILL HAVE PLENTY OF OTHER CARS AVAILABLE IN THE SHOWROOM. PLEASE CHECK THE FIRST PAGE OF THE "VEHICLE SALES" PAGE FOR CURRENT LISTINGS OR CLICK THE "SUBSCRIBE NOW" TO RECEIVE NEW STOCK UPDATES AND WE'LL SEND YOU ALL THE DETAILS AS THE NEW CARS HIT THE MARKET… OR YOU CAN CONTACT US DIRECTLY ON
This is been a labour of love for a great client of ours and a dream car of his for many years… He purchased this car as a true S code GTA 67 Fastback, this car has a great history which i'll explain what i can after meeting with it's 2nd owner, Jim Hodgson that purchased the car in 1978.  So this car was imported as a near new car in the late 60's and imported to Australia converted to RHD through Chapel engineering and sold in Sydney. The car was then acquired in 1978 by Jim and the drive line removed and a small block Windsor installed and was often run up the Gold Coast drag strip until the owner was invited to a car show and found he and his wife got a heap more enjoyment out of that show than the efforts he had to put in the run a good quarter mile… The Show scene got him and for years he stole all the trophies, the car was colour changed and built as a show car and named "Sweet Cream", it took trophies from everything it ever attended between 1982-1985 and several magazine features including Street Machine and before it was laid up and then colour changed back to it's original Moss Green in approx 1990 and sat in storage amongst a bunch of other Mustangs to all get finished one day… at this point the car had only ever put 6000 miles on the clock as it was a show car and then got laid up again.
20 years later and his friend and now current owner, wanted a 67 Fastback to build and had Jim go out to inspect one but it was no good… a deal was struck between the two friends and the old S code Mustang changed hands between them in 2010 but stayed with Jim to be built. Jim is a big small block Windsor fan and builds a lot of tuff mustangs for people and competes in hill climb racing himself so a stroked small block Windsor and a 5 speed manual was chosen and the rotisserie restoration began and played out over the latter years and the car has only just been completed, engineered and registered as of December 2019. Unfortunately, ill heath means all these guys have done is built and finish this car but it now has to go on the market. The car is as new, done 96k's only and has not been compromised anywhere, right down to him doing the NSW engineering and registration before it was sent up to us for the next owner. This is a very rare opportunity; I see some amazing cars and some nice fresh builds… this is an unfortunate circumstance but also presents as a unique opportunity, and while 130k is a lot of money in anyone language it's still irreplaceable if you tried to buy a very good bodied S code, RHD convert it and build one like this.
So… Some details of the actual car and build. The car is a factory GTA, S code big block 390 car and comes with it's original block included in the sale and is also a factory GTA in Moss Green with black trim… I have the block in my possession and drove out to meet with Jim and haul it out of his shed/garage. The driveline that's in this car now is made up of a purpose built 347 Stroker by Jim Hodgson with a 3430 nodular crankshaft, 5.4 scat rod, je pistons, comp cams camshaft, MSD, digital 6al and MSD, 8579 billet distributor and MSD plug leads, Edelbrock performer rpm airgap intake manifold, Holley 750 4bbl carby, 4 into 1 ceramic headers, new Big block mustang radiator and fan shroud and has a custom made stainless steel exhaust system. Engine is internal balance fitted with steel flywheel, 11-inch clutch assembly and Streetmaster hydraulic throw-out bearing, coupled to a t5 5 speed manual transmission with custom made shifter and custom aluminium tail shaft.
Differential is a custom 9 inch with 31 spline billet axles, 3.5 ratio, limited slip fitted with 11 x2/12 finned brake drums and linings, chrome plated backing plates and has a custom-made sway bar. Suspension is made up of Koni adjustable shock absorbers front and rear with King coil springs with new 4 piston disc brakes up front… The whole RHD conversion has been redone and has new tie rods, custom made billet draglink, reconditioned power steering box, new power steering pump and custom made hoses all make up the engine bays side of the right hand drive conversion. Inside a custom-made aluminium dash with Autometer gauges put everything on the right-hand side… all new 2+2 interior including custom made aluminium roll bar and Recaro bucket seats and sports steering wheel let you drive this car like it was made to be driven… this isn't just a show pony.
Other incidentals to note and not overlook is the new front windscreen, new rear window, new grille, new bumpers front and rear, new sill moulds, new front and rear windscreen moulds, new mirrors, new door handles inside and out, new chrome moulds on fold down rear seat, custom made aluminium in engine bay, custom made shock tower brace kit and Monti Carlo bar and American racing 15×8 wheels… It was never built to be a correct bullitt replica, it's not far from one in it's factory specs and will certainly appeal to those that own a new 2019 model but this car was built to be brand new and to perform. So there it is… She's a great bodied car, great history, very nice and extensive build and a very desirable car by it's tags, and the original block comes with the car.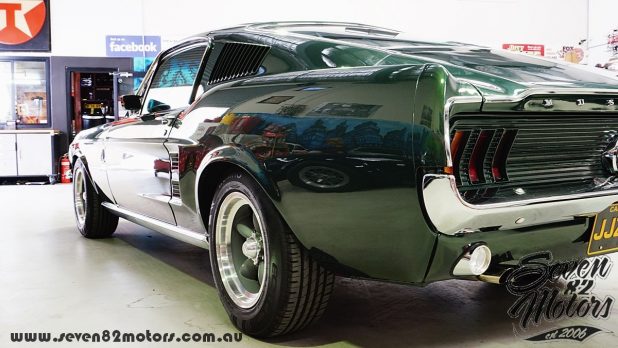 PLEASE CALL US ON 0755 966 566 OR 0416407540 WITH INQUIRES OR EMAIL

[email protected]
Located at SEVEN82MOTORS Classic's, Lowriders & Muscle cars, specializing in Australian & American car sales and available to view in the showroom at 132 Spencer Road, Nerang on the Gold Coast, Queensland.
PLEASE NOTE: This vehicle is being sold on consignment, consignment vehicles are sold as is without registration unless otherwise stated and there is no cooling off period or warranty expressed written or implied by the consignee. Information is provided to us by the consignee and is the responsibility of the buyer to have thoroughly inspected the vehicle, and to have satisfied himself or herself as to the condition and value and to purchase based upon that judgement solely.