SOLD SOLD SOLD!
1956 Ford F100 RHD Pick Up
 WHILE THIS CAR IS NO LONGER AVAILABLE WE STILL HAVE PLENTY OF OTHER CARS AVAILABLE IN THE SHOWROOM. PLEASE CHECK THE FIRST PAGE OF THE "VEHICLE SALES" PAGE FOR CURRENT LISTINGS OR CLICK THE "SUBSCRIBE NOW" TO RECEIVE NEW STOCK UPDATES AND WE'LL SEND YOU ALL THE DETAILS AS THE NEW CARS HIT THE MARKET… OR YOU CAN CONTACT US DIRECTLY ON
Here's a truck i'm really excited to have back in stock…  I've sold before and i'm super proud to have this amazing 56 Ford F100 pick up back on my floor.  This truck originally came from a seller we have sold a few very high end cars for and builds some amazing vehicles, we then sold it very quickly to a new client with an amazing and varied collection of cars and this one fast became his favourite and was named Marilyn as she's quite understated and naturally beautiful without having a heap of bolt on parts added.
So this truck was originally purchased in 6-2011 because it was the most rust free trucks the original owner/builder had ever seen…  After the purchase a build plan was put in place and the truck was pulled down to have the chassis built, even in pieces it proved to be an amazingly rust free vehicle, there were only two rust repairs to be done, a thin section on one floor pan and one repair in on rear guard. All the panels are original Ford panel no reproduction panels other than a brand new tray being supplied and fitted.
With the original chassis bare it was it was time to reinforce it and build it so it drove like a car and not a truck, the chassis rails where fully boxed for strength and a fabricated K frame welded in, an EL falcon front end conversion with coil overs was set up for the front end and the rear end was notched and a triangulated 4 bar rear with coil overs set up. With the body back together and all painted in a custom mix of the factory Colonial White it was time to get the running gear in.
The drive line choice was made up of a 347 Windsor stroker with Edelbrock alloy heads, Thumpr cam, Scorpion roller rockers, Billet MSD, Barry Grant 6 shooter triple carbs, serpentine front runner kit with and a large alloy Spal radiator to keep it all running cool… that's all hooked up to a built c4 auto trans through to an XA GT finned 28 spline 9 inch with 3.5 motive gears.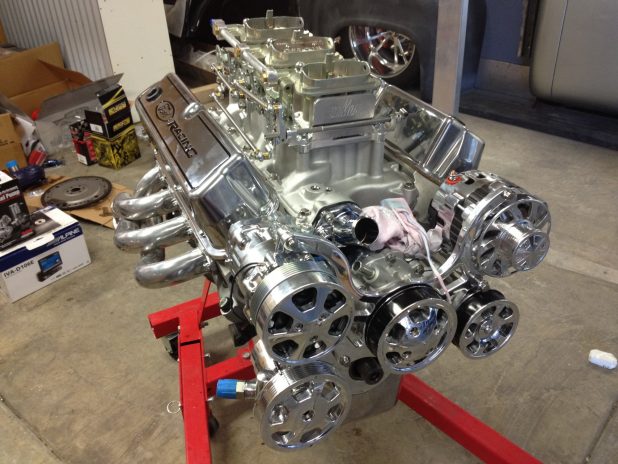 Now to say this truck is fully optioned is an understatement… it simply has everything, power steering, tilt billet steering column, ice cold vintage air conditioning, Dakota Digital VHX dash kph & mph, 0-100 time record, two trip meters, outside temperature, engine oil pressure, fuel and volt, remote central locking, electric windows, remote stereo with amp and sub under seat, electric cowl vent. The factory bench seat was also sand blasted, powder coated and resprung and both the seat and door panels trimmed in Mercedes anthracite leather, all the glass was replaced with new and all new rubbers and seals throughout.
In the back the tray floor is made up of American Oak timber with stainless steel strips and there is a great little custom storage box in the tray with an electric actuator for the lid that can be operated from the dash or remote on the key ring.
All this sits on a set of classic Smoothies with white walls, hub caps and dress trims and there is also hidden Hayman Reece style tow bar under the rear. All this happened in the span of approx 18 months and was first registered in March 2013 and has done approx 8500 miles since. It's a crowd pleaser every where it's ever been and one of the nicest F100's I've ever seen, trucks like this just don't present themselves here in Australia, can't be imported like this and would sell for the same sort of dollar signs we are asking in USD at a Barrett Jackson auction. So don't hesitate to contact me, these trucks are very popular and it will generate a lot of interest.
Located at SEVEN82MOTORS Classic's, Lowriders & Muscle cars, specializing in Australian & American car sales and available to view in the showroom at 132 Spencer Road, Nerang on the Gold Coast, Queensland.
PLEASE NOTE: This vehicle is being sold on consignment, consignment vehicles are sold as is without registration unless otherwise stated and there is no cooling off period or warranty expressed written or implied by the consignee. Information is provided to us by the consignee and is the responsibility of the buyer to have thoroughly inspected the vehicle, and to have satisfied himself or herself as to the condition and value and to purchase based upon that judgement solely.
AUSTRALIA WIDE DELIVERY AVAILABLE