1955 Buick Roadmaster convertible for sale
Very rarely dose a car like this present its self… I've been selling these classic cars since the early 2000's and I have never seen one and this is the first one I've known to change hands. You'll see the odd 55-57 Chevy convertible change hands and occasionally a Caddilac, but this big girl is one of only 4,730 Roadmaster convertibles ever made and Buicks answer to their top of the range convertible. It's to be noted that the Buicks came in two sizes, the Chevy sized Century and Specials and then these, the largest of them, the Super and then the top of the tree, the Roadmaster that shared General Motors C-body with the Cadillac and Oldsmobile 98. All Roadmasters came with factory Power steering, Power brakes, power seats, power aerial and radio, power windows and power top. In 1955 broad lower rear fender bands, gold-colored Roadmaster deck script and hood ornament, bars on the hubcaps and gold-accented grille were added to distinguish Roadmaster.
The current owner of this car purchased the Roadmaster sight unseen from America in 2008 to restore… He remembered seeing on here in Brisbane, Australia in the 1960's and it had left an impression and had always has a desire to own one.
Once purchased and imported it arrived and was in very good condition body wise but a little tired through out and was pulled down, bare metal body restored in it's factory Stafford Blue, the 322 Nailhead motor was rebuilt to run on unleaded fuel and the Dynaflow auto transmission was reconditioned. All new suspension was installed, the diff reconditioned, all new upholstery, all gauges restored, new hydraulic rams and power roof reconditioned, all new chrome and 7.5 wide wire wheels with fat white Coker tyers fitted… The car is completely standard with the exception of a revised start button to do away with the complicated accelerator pedal starter and a CD player installed behind the tissue box that's been made to hinge open to access.
Since being on the road it's won a multitude of awards including Best Convertible twice at the Qld hot rod show.
The car is a credit to all tradesmen involved in its restoration and this is another car we are truly proud to represent. Selling with QLD registration and QLD roadworthy.
Located at SEVEN82MOTORS Classic's, Lowriders & Muscle cars, specializing in Australian & American car sales and available to view in the showroom at 132 Spencer Road, Nerang on the Gold Coast, Queensland.
To Buy, Sell or Consign, please call us on 0755 966 566 or 0416407540 with inquires.
CLICK HERE FOR FINANCE OPTIONS
PLEASE NOTE: This vehicle is being sold on consignment, consignment vehicles are sold as is without registration unless otherwise stated and there is no cooling off period or warranty expressed written or implied by the consignee.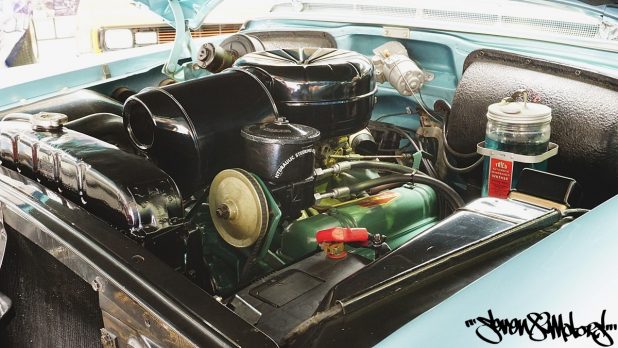 EXAMPLE OF CURRENT PRICES FOR BUICK ROADMASTER CONVERTIBLES IN AMERICA